Charm Your Kids Quicker Than You Can Say "Wing-GAR-dium Levi-O-sa"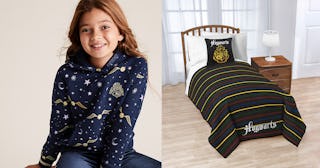 MARK AND SPENCER / WALMART
Your kids might not have gotten their Hogwarts acceptance letter (yet!) but that doesn't mean they can't enjoy a little magic in their lives. Introducing these top-notch Harry Potter gift ideas to add fun and fantasy to any special occasion. Whether it's a birthday or holiday, you can't go wrong with themed gifts for young HP fans. From wizarding games, to activities, to collectibles, you have plenty to choose from. (And if Harry Potter gifts for adults is what you're after, consider Harry Potter dinnerware or foul-mouthed candles that, like a few of the movies, are definitely PG-13).
RELATED: 22 Magical Harry Potter Gifts For The Grown-Up Muggles In Your Life
We pulled together some of the best Harry Potter gifts for all your favorite young muggles. Warning: These items may promote spell reciting, wand wielding, and games of Quidditch (RIP your broomsticks).
Harry Potter Gift Ideas For Kids
Best Harry Potter Game Ideas
Best Harry Potter Activity Ideas
Best Harry Potter Collectible Ideas
Think we conjured up some stellar Harry Potter gift ideas for kids? See our other mom-approved toys for more inspiration!