An Illustrated Edition Of 'Harry Potter' Is Hitting Shelves This Year
by Christina Marfice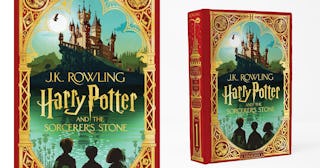 Courtesy of Scholastic
Every Harry Potter fan is going to want to get their hands on this book
It's been more than 20 years since we cracked open the first book of the Harry Potter series and were transported to Number 4 Privet Drive, Platform 9 3/4, Hogwarts, and beyond. Those of us who grew up alongside Harry, Ron, Hermione, and their classmates are now raising a new generation of readers who are just getting to the right age to appreciate the series, and publisher Scholastic Books has the perfect way to introduce them to the magical world we all grew up with.
A new edition of Harry Potter and the Sorcerer's Stone, the first book in the series, will be released later this year. This version is illustrated, but you've never seen an illustrated novel like this before. The design for the book was done by studio MinaLima, the same company that established the visual graphic style for all the movies in the Harry Potter franchise.
Just look at the cover alone. It's beautiful.
Nearly every page contains full-color illustrations, but there's more than that. This book also features innovative paper craft features. For example, during the scene when Harry Potter finally receives his Hogwarts letter in the hut on the rock in the sea, readers can open up the letter inside the book, folding it out from the pages to read it on beautifully designed parchment. Other magical features will allow readers to magically reveal the entrance to Diagon Alley, make a Great Hall feast appear on the dining tables, and fold out the Hogwarts castle in all its magnificent glory.
"This new edition of Harry Potter and the Sorcerer's Stone is the perfect way to start a new generation of readers on their Hogwarts journey, and at the same time is sure to be a treasured keepsake for fans to add to their collection," Scholastic president Ellie Berger said in a press release. "The Harry Potter series continues to inspire readers of all ages with its universal themes of friendship, imagination and the triumph of good over evil."
The illustrated new edition will hit store shelves on Oct. 20 this year, and it will retail for $37.99. We can only hope that after the first book is released in this stunningly beautiful format, the rest of the series will follow. For HP fans, having an entire collection illustrated like this on a display shelf is going to be a must.
This article was originally published on