These Adorable Heated Slippers Will Get You Through The Winter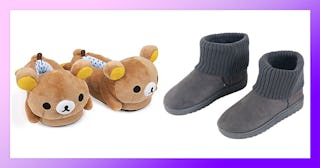 Amazon / Walmart
Did anyone know heated slippers were a thing? If you're constantly putting on multiple pairs of socks to stay semi-warm, drinking several cups of tea a day for a little extra heat, and are currently bundled under numerous blankets right now to stay cozy — then I have some exciting news for you. The winter blues are in full force and there's one super quick, super cute fix: Heated slippers! Yes, they are a real thing and they're glorious.
Some are microwavable slippers and are as easy as tossing them in for 90 seconds. Others are rechargeable heated slippers that will keep you warm and toasty for 3+ hours at a time. They come in an array of booties and slides, and sites like Amazon and Walmart have heated slippers for women, kids, and even heated slippers for men (we know they'll need it too!).
Sometimes, normal fuzzy slippers just aren't enough. So check out our round-up of the best heated slippers around — because they're all you'll need this winter.
Microwavable Slippers
Rechargeable Heated Slippers
Here's to pushing through the rest of winter with super plush, super warm, super cute slippers.
This article was originally published on