'Hocus Pocus' Canned Rosé Is Here To Save Halloween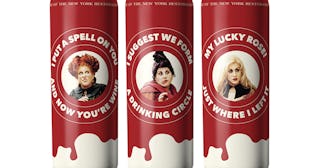 Besa Mi Vino/Eliqs
Hocus Pocus canned wine is here, just in time for Halloween
Halloween is basically canceled this year because of the coronavirus pandemic and the whole family is commiserating. However, Hocus Pocus heard about the pandemic Halloween and was like, Moms, I got you. Enter Hocus Pocus canned wines, because White Claw summer is over, we're now in canned wine fall.
Besa Mi Vino winery and Eliqs custom beer and wines teamed up to create the specialty booze in time for the spooky season. There's a rosé that's described as "bright and lightly bubbly with flavors of cherry, dried roses, and lychee," and a white wine with "fragrant aromas with a smooth blend between dry and sweet on the palate."
These two wines are only available for purchase online for a limited time and a six-pack is $36, though Eliqs says three cans is equal to a full bottle of wine, so that's basically $18 a bottle. Not exactly two-buck-chuck, but you're paying for the experience and the Instagram photo, basically. Also, sales of the booze benefit New York City community gardens, which is nice.
https://www.instagram.com/p/CFa7PzdpYnP/
The rosé cans feature the images of the three Sanderson sisters. The Winifred can says, "I put a spell on you, and now you're wine!" The Sarah one reads, "My lucky rose! Just where I left it." And the Mary can just says: "I suggest we form a drinking circle." Lol.
Also, if you didn't already know, Sarah Jessica Parker (Sarah Sanderson), Bette Middler (Winifred Sanderson), and Kathy Najimy (Mary Sanderson) are reuniting (virtually, of course) on October 30, 2020, for Middler's annual Hulaween fundraising gala. Entrance to the virtual "In Search of the Sanderson Sisters: A Hocus Pocus Hulaween Takeover" costs $10, all of which will be donated to Middler's New York Restoration Project's critical environmental and social justice work.
Not sure what's gonna happen during the one-hour virtual event, but I personally am dying to see the three witchy sisters together again. It's still not know if all three actresses are going to appear in the forthcoming Disney+ sequel, so we'll take this one-hour virtual Halloween event. And naturally, you're gonna wanna have your canned Hocus Pocus wine on hand before the big October 30 festivities.