8 Best Paint Essentials— Plus Expert Tips For How To Paint A Room Without Making A Total Mess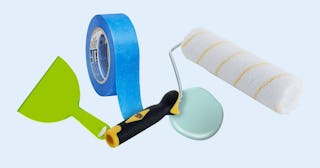 "Living without color is like living without love," says decorating magnate Kelly Wearstler in her Interior Design MasterClass. And given this unprecedented year, we could use some (extra!) love in our lives, not to mention creative projects to brighten the days while we're stuck at home. Whether your home office needs a jolt of energy or a bathroom refresh is in order, now is the time to pick up the paint brush. The best part: it's a budget-friendly home improvement project. If you don't know how to paint a room (no one really does until they try), no biggie. With some tips and tricks, you might want to start your own home improvement show— How to Paint A Room: A Busy Mom's Guide.
Taking risk with paint can feel exhilarating (remember that feeling when you actually did something other than shop for groceries wearing a face mask?). Experiment on your kids' rooms and powder rooms to play around with color. Not sure where to start? Wearstler suggests looking in your closet for inspiration. "What you look good in, in terms of fashion, you're going to feel good in," she says. So take your favorite chambray shirt and drape it over a chair. Once you find a shade that makes you giddy, pick up paint samples to spot test. "It's helpful to see the hues up against the furniture and decorations that you will be incorporating into the room once it's freshly painted," says Erika Woelfel, VP of Color & Creative Services at Behr Paint Company. Before committing to a color, you'll want to live with it for at least a day. That way you'll see how it changes with both natural light and artificial light.
Now go forth, and tap into your creative genius with these eight easy to follow tips from Behr Paint Company experts. You'll never ask yourself "How to paint a room and not make a mess of it?" again.
How to Paint a Room Tip 1: Give Your Trim Some TLC
How to Paint a Room Tip 2: Don't Get Spooked By Spackle
How to Paint a Room Tip 3: Let Painter's Tape Set
How to Paint a Room Tip 4: Don't Skip the Primer
How to Paint a Room Tip 5: Paint the Ceiling First
How to Paint a Room Tip 6: Pay Attention to Paint Finish
How to Paint a Room Tip 7: Don't Apply Too Much Pressure
How to Paint a Room Tip 8: Use a Good Angle Brush on Baseboards
Once your paint dries, check out more Home & Kitchen treasures and start redecorating.
This article was originally published on