9 Best Home Activities To Keep Your Kids STEM-ulated (So You Can Get Sh*t Done)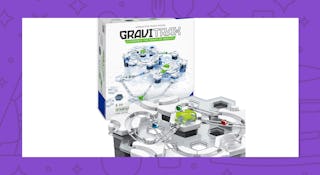 If the words "We're bored!" makes you instantly cringe (not to be outdone by "What's for dinner?"), stay calm and read on. In anticipation of the next case of cabin fever, we've got *smart* suggestions to keep kids busy while they're home.
Whether it's the weekend, school vacation, or a glum rainy day, it doesn't take long for the complaining to begin. What's worse is when you've got a to-do list to power through, a nearly impossible feat when the kiddos are whining at your heels. Sure, you can park them in front of Disney Plus (no judgment, we've all done it), but at some point, you'll probably want the TV off. So if you're trying to limit screen time and keep your cool, what's the best way to keep everyone entertained so you can actually get sh*t done?
RELATED: Cool As Hell Toys That Will Keep Kids Entertained And Going Back For More
Solution: Stock up on toys, games, and kits that are entertaining and also educational … without them knowing it. Impossible, you say? Not necessarily.
Enter STEM activities, an acronym for science, technology, engineering, and mathematics, which are designed to pique the interest of young minds and help develop real-world skills. In other words, they're the best of both worlds when it comes to learning and having fun. From creativity-sparking art tiles to build-your-own robots, we've rounded up some of the best STEM products for different ages.
Now, go forth and be productive.
Best For Toddlers & Little Kids (Ages 3-5+)
Best For Big Kids (Ages 7-8+)
Think these STEM picks are genius? Be sure to browse hundreds of other Mom-approved toys!
This article was originally published on