Get Their Butts Off The Couch With The Best Kids Fitbit Watches And Fitness Trackers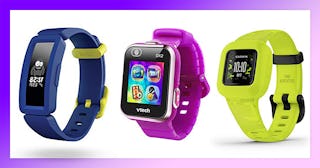 The best Fitbit for kids will motivate the whole family to get up and move — without you nagging them. (Finally, some kids tech you can get behind.) Today's kids Fitbit watches and activity trackers are chock-full of inspiring interactive features that encourage an active lifestyle. Parents will appreciate the sleep data and sedentary reminders, while the fun avatars and challenges will motivate even the laziest kiddos to do something active. Help your family build a lifetime of good-for-you habits as they step, snooze, and splash their way to a healthier lifestyle. (FYI. many kids activity trackers double as waterproof watches — perfect for a rousing play sesh in the inflatable pool.)
RELATED: The Best Smartwatches For Kids: An Ultimate Guide
Sick of telling your kids to brush their teeth, finish their school work and do their chores? The best activity trackers for kids also have built-in chore reminders that you control through a parent console app. For tech-savvy teens and tweens, there are totally souped-up Fitbit watches available with integrated GPS, bluetooth connectivity, and voice activated Alexa — yep, you may want to get one for yourself, too. So whether you're searching for something that's high-tech or for a simpler, more affordable unit, we've done the legwork (that's a pedometer joke) for you.
And finally, to clarify: Fitbit is a popular brand of wearable activity trackers (now owned by Google, in case you were wondering), but other brands, such as Garmin and VTech, have their own versions, as well. So now that we've gotten all that out of the way, have fun checking out the best Fitbit watches and trackers to get your family off the couch and out living life together. (Cue the cheesy family sayings about spending quality time together.)
Best Kids Fitbits
Best Kids Fitness Trackers
Looking for more parenting hacks and best products for kids? We gotcha covered with all the mom approved recommendations you need.
This article was originally published on