16 Best Toddler Step Stools So The Kids Can Help In The Kitchen And Brush Their Own Teeth
We only recommend products we love and that we think you will, too. We may receive a portion of sales from products purchased from this article, which was written by our Commerce team.
by Anna Baboval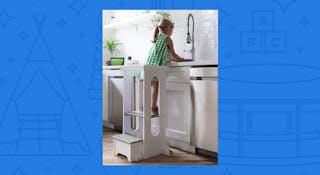 Toddler step stools are also known as kitchen helper stools or towers because our kiddos love to help (sometimes a little too much). With counters (and our favorite kitchen gadgets) just out of reach for little hands, it quickly becomes an insane arm workout trying to hoist our LOs up to counter level. Or better yet, when we bring the mixing bowl down to them and the family dog thinks she's being treated to homemade meatballs, it quickly spells D-I-S-A-S-T-E-R. Investing in a sturdy step stool for kitchen helping is one of the best purchases we've made this spring. The kids are safe and actually helpful, plus as a bonus— when they help make food they're more likely to eat it (yup that's right: Spinach pesto, here we come!).
RELATED: 10 Best Bookshelves For Little Readers (And Their Mamas Who Love To Clean Up)
Step stools aren't just limited to the kitchen though. We know more than a few mamas who have accumulated quite the collection around the house, a smart idea if grabbing every little thing for your increasingly independent kid has become something of a pet peeve. LOs need to step up in the bedroom, bathroom, and playroom to reach their favorite things and definitely to brush their teeth (and wash their hands). Different stools can be great for different situations. Foldable options are great to avoid the clutter, but smaller two-step stools with handles can also do the trick. After all, who can be bothered to lug those heavy things from room to room? That's the last thing we need – one more excuse to delay going to bed because we're looking for the stool!
With so many choices from handcrafted cutesy stools to sturdy gate-like creations, it's hard to know what to pick. Dr. Leah Alexander, a pediatrician and consultant for Mom Loves Best says there are a few things to look for when shopping for a step stool:
Age and developmental skills: Depending on how old your child is, they will have different coordination and motor skills, which will affect what type of step stool is safest. "For example, toddlers fall multiple times during everyday activities. They need a very basic stool, and possibly with hand supports," says Dr. Alexander. "Most grade school-aged children, however, will be able to navigate a multi-step stool with ease."
Stool stability and other safety measures: Regardless or age or type of stool, the most important thing is prevent falls and injuries. Step stools should have a firm and level base, and a mechanism that prevents sliding. For foldable stools, the folding mechanism should be designed to lock when the stool is in use so it doesn't collapse or pinch any fingers. From a safety perspective, notes Dr. Alexander, this type of stool is not ideal for toddlers. For additional safety standards, the Consumer Product Safety Commission has specific recommendations (including third-party safety testing and using lead-free or low lead paints).
Environment setup: Where are how step stools are being used is as important as what kind to get. For example, they're ideal to use at sinks and counters where children can lean onto these surfaces for additional support. Multi-step stools that are used to access out-of-reach items are better reserved for older children, and with adult supervision, says Dr. Alexander.
We've found a handful of great options in a variety of sizes that are both cute and secure. So go ahead, mama, let them brush their teeth by themselves!
Best Kids Step Stools
The bestselling 11-inch Spranster Super Strong Folding Step Stool is perfect for when things are just a little bit out of reach for tots — or you, for that matter (short people problems, amiright?). Easy to maneuver from room to room and fold up to store beside the sink or in a closet, this one-step wonder is both budget-friendly and secure.
Made of lightweight plastic, the jigsawed designed sides give this stool its strength. This children's step stool may look basic, but it can hold up to 300 lbs, making it as much for the mamas and dads looking to get that platter down from the pantry as it is kiddos wanting to brush their teeth. The top has a raised anti-skid pattern to prevent slips and it folds up nearly flat for storage anywhere. This is the one that belongs in every room (or at least one per floor).
Whoever designed this Simplay3 Two-Child Step Stool clearly had two kids fighting over the sink. Designed for two pairs of little feet to stand on at one time, (each at varying height – think 2 and 4 year olds) everyone can brush their teeth at the same time. The adorable little footprints tell our littles exactly where to stand so it's safe and that this stool is meant for them. Our favorite part is that this isn't just for the kiddos! Mamas flip this thing over at bath time or bedtime and presto you have a seat or stool for you too. The supportive sides transform into a stable frame meant for sitting or standing adults up to 300 lbs when it's flipped over. One reviewer wrote, "We used to have two separate stools for both of our children, 5 and 3. We have one really small bathroom and having this one stool has made one aspect of the clutter in the bathroom disappear."
Perfect for teeth brushing, hand washing, potty training, or anything else, this step stool is a bathroom must-have for any family with tots. Although it's sturdy enough to hold up to 180 pounds, this plastic stool is light enough for littles to move on their own, plus two large side handles make for extra-easy carrying. It even folds down for simple storage. You'll love that the top is textured for extra grip while your kiddo will love their newfound independence (oh yeah, you'll love that part, too). Get this pick in pink, blue, or grey.
Best Kids Step Stools 2-Step
This Little Partners Toddler Step Up Stool comes in nine different colors to match any room in your home. The sturdy railings make gripping this mini ladder super easy and fun for toddlers, especially for climbing up to bed or the potty. The second step has an adjustable height feature that can grow with your LO. As an added safety feature, the included nonslip grips can make parents breathe a little easier watching our tots going up and down. This stool is secure enough for adults up to 150 lbs.
Kids step stools take up precious real estate in our already overcrowded rooms (seriously who knew kids had so much stuff?) This wooden step stool from King's Brand does double duty: It offers step-up ability for the kiddos plus storage capacity for the mamas. The top step has a hinged lid that opens to reveal storage space for books or toys, reducing the room clutter and providing a safe option for kids to get their gear themselves. Sized right for the bedroom, bathroom, or playroom, this white-painted stool will blend seamlessly into any room, be it a nursery, bathroom, or kitchen. Since it's made from wood, you'll love how it looks sleek and feels nice and sturdy.
Beautifully painted in different colors — including lilac — this small wooden step stool from Little Partners is a no brainer. We love the wide set steps and the adjustment lock for shifting stair heights for added safety. Plus the rounded corners and smooth construction prevent damage to our wood floors! The quality design makes this stool sturdy enough for most adults, too. "This is a high quality, durable, and easy to assemble stool worth its price tag," one Amazon reviewer raved. "Our toddler now climbs up this stool independently to brush his teeth, floss, wash hands, and smile at himself in the mirror.
Need a basic stool that'll help in the bathroom or the kitchen? This model by KOADOA may be the perfect fit. With a wide non-slip area and three colors to choose from (with one coming in a multi-pack, which might be more up your alley depending on the amount of kids in your home) this stool is good for helping kids reach the bathroom sink. The extra-wide steps will also help prevent kids from tripping or falling.
This wooden stool has two wide steps and a sturdy base, as well as handles on the sides to make it easy to carry. Its simple design and wood and mint green color will look stylish hanging out in any room of the house, and it can support up to 154 pounds of weight. One reviewer and parent said, "I wanted something cute and functional. This is it! My 21 mo old loves this stool. We have normal height counters with the raised bowl sinks. This allows my son to easily reach the raised sink to brush his teeth and wash his hands. Not slippery when wet. Easy to assemble, all the screws and the little tool was included. This has good weight to it and isn't flimsy."
Simple, clean-looking, and functional, this Wood City step stool has two steps, rounded corners, and carry handles. It's made of solid wood and comes with non-slip pads you can put on the bottom of the stool to help keep it in place on floors. It comes in natural, white, or black.
Best Kitchen Helper Stools & Towers For Kids
If you have a lot of wood furniture, this Little Partners kitchen helper will fit right in. Weighing in at 18 pounds, this stool has received its Greenguard Gold Certification, meaning it's environmentally acceptable. Of course, it's also passed all government safety regulations as well. It's ideal for smaller spaces, and will bring your toddler to the height of a standard counter, so that they can watch and help prepare lunch and dinner.
Your child can help you cook in the kitchen safely with this SDADI kitchen step stool. This stool includes a safety rail and is quite reasonably priced. This model also has attachable anti-slip strips on its legs, adding even more security for parents who are new to buying stools like this. Speaking of parents, plenty of them have given this stool a ton of praise on Amazon. " It was surprisingly easy for her to learn how to climb up in it. I wish I knew about these types of stools before she turned 2," one parent wrote. "It's very sturdy and the non slip strips are a great touch."
This Kitchen Helper Stool's unique look and design makes it one of our favs. The height is matched perfectly to the counter with four-sided railing for extra safety. The adjustable platform makes this tower work for kids of all heights and ages up to 150 lbs. One reviewer shared these thoughts, "What a great invention!!! A great way of adding ease to having your child assist you in the kitchen. Whether it is to help cook, help with dishes, or simply just to watch and learn, this is a wonderful tool to use. It also works especially great for clingy toddlers as well. Material wise, it is made of sturdy wood and very easy to assemble. We actually have two of these now and absolutely love them and so do our kids!! Would definitely recommend!!"
Talk about a multitasker! This versatile pick from ComfyBumpy is so much more than a step stool. First off, it's great for giving your kiddo a boost to the counter while keeping them safe and contained with three sides of rails. Second, it's equipped with a chalkboard and doubles as an art easel. Third, it's a desk when it's laid on its side, chalkboard side up; there's a plank between the bottom legs that functions as a built-in seat. Needless to say, your LO will get tons of use out of this triple threat, plus lots of hands-on, educational experience, both as your sous chef and an esteemed chalk artist.
Are you looking for a beautifully crafted stool that could double as a piece of furniture? ECR4Kids has one that fits the bill. Perfect for children to reach taller sinks, this model includes support handles to make your child feel even more secure. Based on its design, it's also a great stool to use if you're starting to potty train. It's constructed from birch plywood and has a natural wood lacquer finish that's also scratch-proof. It's a solid investment if you've got multiples in the home.
Best Toddler Step Stools 1-Step
Okay, this has got to be one of the cutest toddler step stools out there! Your tot will love climbing aboard their elephant friend in order to help you out at the counter. It features three height adjustments, no-slip feet, and safety bars to keep your kiddo contained on all four sides. Sure, this design is super kid-friendly, but its sleek wooden silhouette means you won't mind keeping it in your kitchen. Be sure to check out the brand's equally adorable giraffe step stool, too!
This adorable step stool is lightweight and portable, so it's easy for your toddler to move it around the house if needed. But it's also safe — it has a non-slip grip on top and under the feet to prevent it and your little one from sliding around.
Looking for more great ways to let the kids "help" by getting out of the way? Check out all of our mom-approved kids' toys for hours of entertaining ideas.