Throw Pillows That'll Add A Splash O'Fun To Any Kid's Room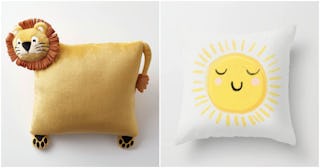 The Company Store/Society 6
Throw pillows are an easy and relatively inexpensive way to spruce up a kid's bedroom. Whether you're looking to bring in a pop of color, pull together a theme, add some coziness, or give your child the opportunity to let their personality shine (or all of the above), decorative throw pillows are the perfect addition to a kid's bedroom. They can match your kid's bed, a kid-friendly chair or kid sofa, or even their rug.
Contrary to their name, throw pillows aren't meant for actual throwing, although your kids may feel differently about that, as kids do — but that doesn't mean they aren't fun. There are literally thousands (millions?) of throw pillows to choose from on the world wide web, but who has the time to sort through that many pillows? Well, we did.
We rounded up our favorite throw pillows for kids of all ages — from heart-shaped pillows hearts to animals to cute sayings. Does your child's bed need a sprinkle donut pillow? Probably not, but will it add a tiny bit of happiness and sweetness to your kid's life? Absolutely. And sometimes a little sweetness is what we all need.
Decorative throw pillows can truly add the perfect finishing touch to any bedroom. Check out our list below.
Best Kids' Throw Pillows