17 Lawn Games You Absolutely Need This Summer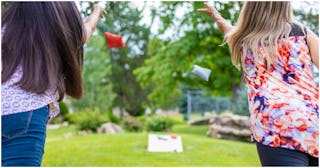 Getty Images/ eyecrave
With warmer weather here to stay, you're probably looking for the best lawn games for kids to play with after being cooped up in the house for the last year and a half. Summer is just around the corner, so that means spending more time outside under the warm sun or cooling off in the water (whether it's a huge inflatable water slide or a small inflatable kiddie pool — honestly, whatever works). If you're looking for activities to keep your little ones away from screens and staying outdoors, setting up lawn games, playing catch, or even having a good old-fashioned water gun fight will always result in hours of entertainment.
Getting back to the basics of playing outside is important in this day and age. And you know what? You can never go wrong with some of the classic games you grew up with. You probably remember playing some versions of these as a kid: Cornhole, horseshoes, lawn darts, the list goes on and on. These are lawn games the whole family can have a good time with — and after all, what family BBQ is complete without a competitive cornhole tournament?
Much of the lawn games on the market today are updated versions of the classics from our childhoods, but there are some new ones like laser tag gear and giant inflatable bowling. If you're ready to find your next big hit for family game night, check out some of the most popular lawn games out there!
Best Lawn Games For Kids