31 Precious 'Lord Of The Rings' Gift Ideas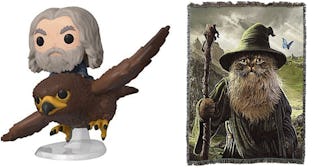 Amazon
If you know a big LOTR fan, then you're most likely on the hunt for Lord of the Rings gifts for holidays or birthdays — you can never go wrong with Gandalf or Hobbit merch for a true fan. The Lord of the Rings has become one of the most popular fantasy book and movie franchises of all time and with good reason. It has amazing characters, gorgeous settings, and a precious, precious ring. It's no surprise that J.R.R. Tolkien's books have become must-read classics.
With so many fans of the trilogy and with so many cool props and characters as inspiration, manufacturers have created thousands of products that you can purchase to show off and enhance your fandom. It's become a trivia game with questions to ask a guy or girl that are true fans, a keychain to throw on your car keys, and wine glasses to enjoy every week. LOTR is kind of a big deal.
If you dread gift-giving times, stay with us here: You can use this plethora of products as gifts for Lord of the Rings fans. With so many LOTR gifts available, you almost certainly can find a great gift for a fan of the franchise that he or she does not already own. (Admittedly, it's not at a level to match the overwhelming number of potential Harry Potter gifts, but the number of LOTR gifts is close.)
Whether you're a fan of the Hobbits, of Gandalf the White, or of Gollum (don't be ashamed of this), you're sure to find something in our list of the best 31 The Lord of the Rings gift ideas to match your needs.
Lord of the Rings Collectibles
Lord of the Rings Merch
Lord of the Rings Games
Lord of the Rings Home & Kitchen Items
For those who are fans of additional movie and book franchises, we have plenty of other gift guides to help you find just the right presents for your friends, family … and for yourself.