We're Positive These Are The Best Magnetic Toys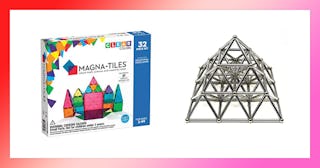 Amazon
Magnet toys have been on every kid's wish list for the holidays and birthday presents — for a reason. Magnets are awesome. There is something undeniably fascinating for kids (as well as adults) about the pull of two magnets together. Want to be a mom superhero? Show them how two magnets repel each other. Minds blown! Along the way some genius was able to take this fun pastime and create a variety of magnetic shape toys for kids (and parents) of all ages — there are even magnets for toddlers now too! (What mama isn't looking for an amazing toddler toy that keeps them busy while they learn interesting facts about science?!) Viewed as some of the top STE(A)M activities, magnets are good for developing gross motor skills, inquiry-driven investigation, and facilitation of good old-fashioned screen-free fun. So, when they're finished playing tag or riding their kids go carts outside, get something that will truly stimulate!
The variety of magnetic toys is both inspiring and intimidating, especially if the science fair wasn't our thing growing up (or more likely our toddler just wants to slap two things together and make 'em stick). Magna-Tiles and Magformers are two of the major brands in magnetic tiles, but a lot of other great options are out there as well. Magnets that either have large cutouts (like Super Magformers) or large pieces are easier for smaller toddlers to hold. (Just a word to the wise, they will need to be stacked one by one during clean up so be sure to teach that skill PRONTO!) Whereas companies like Geomag have full-on magnet construction sites for older, more skilled builders who have advanced beyond the basic tiles.
Not sure where to start? We've scoured the internet and found the most attractive (pun intended) kits for bitty beginners all the way up to sets for the big kids that are so fun you might actually have to pry them from your partner's hands to let the kids play!
Magnetic Toys for Kids
Magnetic Tiles for Kids
Magnetic Toys for Toddlers
Looking for more great ways to entertain the littles? Check out all of our mom-approved, fun-filled kids toys!
This article was originally published on