Gorgeous Maternity Bridesmaid Dresses That Also Happen To Be Super Comfy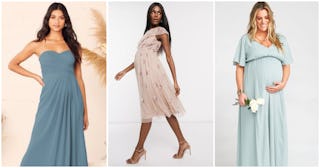 Lulus/ASOS/Show Me Your Mumu
So, you're in the market for a maternity bridesmaid dress. Lucky for you, you're in the right place! It's always an honor to be asked to be a bridesmaid for someone's wedding, whether that someone is a close family member or friend. That being said, the role of bridesmaid is a big responsibility. Not only are you tasked with standing next to the bride on her wedding day as she says "I do" to the love of her life, but you're also expected to play the part—that means purchasing a beautiful bridesmaids dress, as well as shoes and accessories to go along with it.
RELATED: 22 Gorgeous (Yet Comfortable) Baby Bump-Friendly Wedding Guest Dresses
In a normal setting, this is a lot to prepare for, but playing "bridesmaid" while you're expecting makes things a liiiiittle more complicated. No matter where you are in your pregnancy, whether it's trimester one or three, anticipating how you'll look and feel on the bride's wedding day can be a bit tricky, as can finding the right dress that will accommodate your growing baby bump and potentially nauseous state (thanks, morning sickness).
The good news: There are more options out there for shopping for bridesmaids dresses than ever before and so many flattering and forgiving styles and cuts that you're almost guaranteed to find something you love—and something that loves you and your baby bump right back.
Here are some of the best maternity bridesmaids dresses out there that will flatter you no matter where you are in your pregnancy.
Best Maternity Bridesmaid Dresses
Looking for more fashionable buys to last you through pregnancy and beyond? Check out our fashion page.