Some Minecraft Gifts For Mega Fans (Even If You Don't Know What Minecraft Is)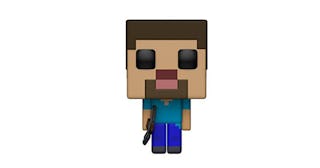 Amazon
Looking for Minecraft gifts (even if you have no idea what the heck Minecraft is? And no, it's not Minesweeper)? With video games looking more and more realistic every day, it may be surprising that the blocky, purposefully pixelated Minecraft has gained so much popularity since it was first released in 2009. But the appeal is that there are no real goals or mission involved in Minecraft and you're only limited by your own creativity. Players can explore the vast world, "mine" blocks of different materials, and then "craft" items like tools, weapons, and impressively complex buildings. For anyone in your life who loves to spend their hours immersed in the world of Minecraft, here are 15 gifts — including hats, mugs, and LEGO sets — they're bound to love.
RELATED: The Best LEGO Storage Ideas To Save Your Feet And Sanity
If you're stumped on gift ideas for kids this season, check out our other toys picks here.