The Best Mold Removers for a Cleaner and Safer Home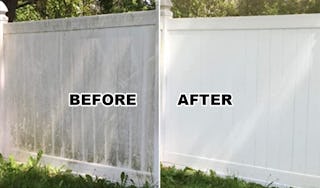 Mold removers are serious business — when you buy one, you want to be sure that it's going to work. No one wants mold in their home any longer than it has to be. (I know firsthand that mold and mildew are tough to get rid of — so no judgment here if you're dealing with this problem in your house. Mold happens.) Whether you're dealing with stubborn mold in your kitchen, bathroom, or elsewhere, there are a lot of mold removers out there to fortify your house cleaning arsenal, whether you prefer natural products or traditional ones.
You can rely on regular old household items such as vinegar, hydrogen peroxide, and lemon juice to fight mold (we'll refrain from getting into ratios and recipes here), but if you're on the hunt for something specifically designed to banish household mold, these mold removers will get the job done. Just make sure to read the directions carefully for any product you use — many require special safety considerations such as adequate ventilation during use.
Why is it so important to remove mold from your home?
"Breathing in mold spores can cause allergy-like symptoms in most people, and much worse issues for those who are allergic to mold," says Marina Vaamonde, real estate investor and founder of HouseCashin, who often deals with mold and mildew in run-down houses she fixes and flips. "It's believed that exposure to mold can cause young children to be more susceptible to developing asthma."
What's the difference between mold and mildew?
"Mildew is actually a type of mold," Vaamonde says. "FEMA refers to mildew as an early form of mold because it can develop into a more resistant type. Mildew is flat, lighter in color, and grows on the surface. Other household mold is dark colored, has a thicker raised form, and can grow into the material itself."
If you're ready to send mold packing, check out the mold remover products below!
We only include products that have been independently selected by Scary Mommy's editorial team. However, we may receive a portion of sales if you purchase a product through a link in this article.
Best Mold Remover Sprays
Best Mold and Mildew Removers
Best Mold Remover Gels
This article was originally published on