17 'National Lampoon's Christmas Vacation' Gifts Only Diehard Fans Will Get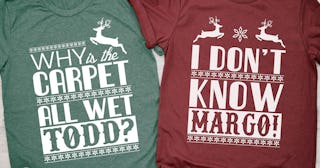 Etsy
'Tis the season to listen to Mariah Carey on repeat, bake tray after tray of holiday cookies, and enjoy some classic holiday movies like National Lampoon' Christmas Vacation. There's just something nostalgic and hilarious about the Griswolds' Christmas adventures, from uprooting an entire Christmas tree, to dealing with unwelcome family members, to trying to put up over-the-top decorations. Whether you're watching the movie for the first or the fiftieth time, these 16 gifts and decorations will help you get into the holiday spirit, even if you didn't manage to hang up 25,000 twinkle lights this year.
National Lampoon's Christmas Vacation Gifts
National Lampoon's Christmas Vacation Decorations
For more great holiday gift ideas, check our our other Gift Guides.