35 Novelty Gifts Your Quirky Friends And Family Members Don't Own Already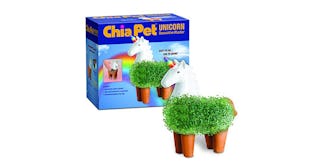 Amazon
If you're searching for the best novelty gifts, you can stop dead in your tracks because we've come up with the ultimate list of quirky fun presents. A "novelty gift" is basically anything kitschy or offbeat that's meant to delight and amuse. These are hilarious, totally non-boring gifts that are perfect for your oddball friend with a sense of humor. Because we like to celebrate weirdness here; it's what makes us true originals, after all. We've found unique ideas for every kind of taste—useful Christmas gifts, funny animal-themed gifts, novelty food gifts, and the list goes on. We've got everything from the world's tiniest vacuum to a Chia pet to a cookbook with recipes using your leftover Christmas tree (yes, actual edible recipes). We told you these are one hundred percent original, not one run-of-the-mill gift in sight.
RELATED: 22 Adult Advent Calendars, Because Why Should Kids Get All The Fun?
And with these non-traditional gifts you don't have to worry if the recipient already has it—it's highly unlikely.
Below, the best novelty gifts for all the quirkiest people in your inner circle.
Novelty Christmas Gifts
Funny But Useful Gifts
Funny Novelty Gifts