These Are The Best Nursing Pillows New Moms Are Loving Right Now
by Jenn Sinrich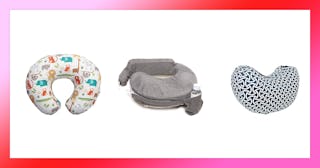 Amazon
One of the most important things you need for you and your baby is a nursing pillow. If you're pregnant and shopping, you're probably buying baby products and adorable pint-sized baby clothes by the boatload. Everyone loves to tell you all of the items you'll definitely need for your baby, but all-too-often they forget to mention the super important products you'll need for you, so you survive the newborn phase with at least some sanity intact. The nursing pillow is one of them (a baby bouncer is another item you'll want *eventually*, and we also categorize that product as "sanity saving").
RELATED: If You *Choose* To Use A Nursing Cover, Here Are Some Really Comfortable Ones
One of the postpartum must-haves that tends to top the list for most moms is a nursing pillow (or a breastfeeding pillow). You may have heard of the Boppy pillow—it's one of the most popular breastfeeding pillows out there, but it's just one of many that are sold. Most breastfeeding pillows are made to sit right in your lap underneath your hungry, breast- or bottle-feeding baby. They wrap around your body so that they stay in place and serve as a comfortable resting place for your baby. This positioning allows you to take a hands-free approach to feeding your baby so that you can do other things, like sit back and relax, scroll through your phone, call a friend or even eat something for a change.
When shopping for a nursing pillow, it's important to keep a few things in mind. The first is comfortability. If you don't feel comfortable positioning the breastfeeding pillow around your body, you surely won't feel any more comfortable once you add your newborn to the mix. You also want to make sure that the material is soft and to your liking. Bonus points if it's machine-washable, since you're definitely likely to get some milk stains on it (to say the least).
Here are some of the best nursing pillows that new moms are loving right now.
Best Nursing Pillows
Check out these other baby products that moms love most for year of motherhood and beyond.
This article was originally published on