14 Peppa Pig Toys That Are Oink-Tastic
by Nichole Talbot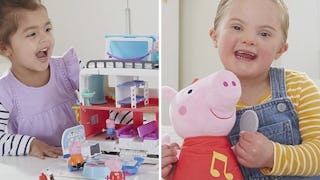 Whether it's a Peppa Pig toy house or a huggable pig plushie, the best Peppa Pig toys share one thing in common: They capture Peppa's snort-tastic charm. With her sweet British accent and penchant for splashing in muddy puddles, Peppa has been enchanting young audiences for more than a decade. The snappy episodes are wildly popular with their colorful and fun adventures—perfect for short attention spans — and many also teach little life lessons parents can appreciate. If your child calls you Mummy and wants welly boots, or if they're obsessed with dinosaur toys like George, they're probably a Peppa Pig fan.
So naturally, kids want all the piggy things, from Peppa Pig playsets to George Pig toys and Daddy Pig toys. This pink piglet's captured the imaginations of the under-10 set, and thankfully the accompanying merch is pretty good. Read on for a guide on some of the best Peppa Pig toys, including toy sets, toy houses, wood toys, and educational toys that are super fun and snort-approved.
Looking for more character toy ideas? Check out our favorite Frozen II toys, Daniel Tiger toys, and Despicable Me toys.
Best Peppa Pig Toys
Peppa Pig Toy House
Peppa Pig Toy Sets
Wooden Peppa Pig Toys