10 Gifts For Your Furbabies
by Team Scary Mommy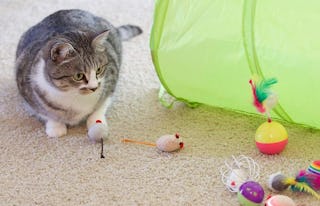 Youngever
You love your pet. Your pet brings you so much joy, happiness, and endless pictures that your friends will only half-heartedly look at. Why not spoil your fur baby rotten with the best pet gifts this holiday season? Because, honestly, after all those naps they've been taking, they deserve even more TLC. From the ridiculously cute AmazonBasics Cat Scratching Post and Hammock to the super snuggly K & H Sleeper Dog Bed, these gifts will guarantee you ALL of the Best Pet Owner Of The Year awards.
BEST FOR THE OUTDOORSY PUP
We can all agree that there's literally nothing cuter than a dog in boots. It's starting to get cold out and your pup deserves some warm footwear for all those morning walks…and you deserve to have the cutest pet on the block. These booties are water resistant, super soft and lightweight, and come with reflective straps for nighttime. They're also perfect for indoor wear, in case the damn heating breaks again.
BEST FOR THE PET WHO ALWAYS GETS COLD
Speaking of keeping your doggo warm, you're probably going to want to bundle them up in this insanely cute jacket. It's reversible, so they can rock adorable plaid on some days and a comfy fleece on other days. Many bonus points: the jackets are also wind proof, water proof, and feature a cozy lining to combat the cold.
BEST FOR THE EASILY BORED CAT
Is your cat just totally, totally over it all? Clearly, they haven't been introduced to Youngever cat toys yet. This bright, colorful set features a collapsible tunnel and twenty-four toys which include a mouse, balls, springs, and feathers. Your cat will have so much fun running through their very own tunnel and playing with their new interactive toys and you can feel smug about being Cat Owner of The Year.
BEST FOR THE CHILL CAT
$25.76 AT AMAZONYour extra chill cat just got the chillest hang space. This scratching post features two pillars for scratching which means your furniture and walls are finally, finally SAFE. Plus, the fiber on the posts is actually great for your cat's nails. Annnnd the best part? There's a plush as hell hammock for your fur baby to relax in. If this isn't living your best life, we don't know what is.
BEST FOR THE ADVENTUROUS CAT
Okay, so, all of these products are cool and all but what if your pet is super, super hard to impress? You're gonna need to go with the incredibly epic cat tree. This plush maze features toys to keep your cat entertained and multiple platforms so they can climb and scratch to their heart's content. Bonus points for you? Your furniture will suddenly became a whole lot less banged up.
BEST FOR THE PET WHO IS ALWAYS CHEWING SOMETHING
Your dog will chew anything. Like, literally ANYTHING. So, the very best gift you can give him/her is a very hygienic rope to go nuts on. They're super, super durable which means your pet can really go at it for as long as they damn please. This also means that you will no longer find various furniture/clothes/shoes chewed to shreds by your very adorable pet – so hallelujah for that. Bonus points: purchases support Pacific Pups Rescue, a non-profit dog rescue.
BEST FOR THE SLEEPY HEAD DOG
Does your doggo love a nap more than anything else? Upgrade that sleeping experience to the max with this heated dog bed. It's super soft, comes with a dual thermostat, a removable heater, and a removable cushion for easy washing. Also, it can be safely kept plugged in all day, which means that your pup is in for the coziest, warmest, laziest days ever.
BEST FOR THE CAT WHO JUST WANTS TO STAY COMFY
Your cats deserve to be just as cozy during these cold months. Snag this cute tent and your fur baby won't shiver one bit as it gets chillier. It comes in a variety of adorably bright colors and patterns, is totally foldable, and features velvet lining on the inside. So, yeah, it would be super great if humans could have our own equally comfy tents for this winter.
BEST FOR THE INTELLECTUAL DOGGO
Your puppers is smart. Probably the smartest puppers on the block, if we're being honest. Why not put that to the test with this super fun, brain stimulating treat ball? Your dog will have so much fun trying to figure out how to get the treats out of this ball and will get a whole lot of good exercise in while they're at it.
BEST FOR THE CAT WHO IS ALWAYS THIRSTY
Your cat can lap up more water than allll the other cats. So, you're probably (definitely) gonna want to invest in a pet fountain. It comes with two replacement filters, a triple filtration system, and features a really quiet pump (your welcome, cat parents everywhere). Also, it's baby blue, has a pretty daisy in the middle and is completely adorable.
This article was originally published on