The Best Pokémon Gifts: You Gotta Catch 'Em All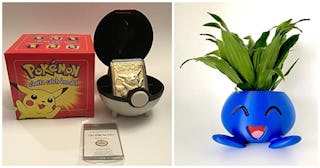 Amazon
Happy holidays — Pokémon gifts for everyone! But seriously. After a brief lull, Pokémon has returned as a cultural staple. Ignited by the game "Pokémon GO" then Detective Pikachu and now, the Nintendo Switch Pokémon phenomenon, you may be feeling a bit nostalgic for the mid-late '90s when Pokémon was first introduced to your life. We don't blame you! 2020 is a great year for gamers. So, sometime between shopping for Fortnite Gifts, Minecraft merch, other lovable gaming gifts, and trading pears with AOC in Animal Crossing, give this Pikachu-enthusiast guide a go.
RELATED: These Minecraft LEGO Sets Are Awesome — If You're Not A Square
This comprehensive list features the best Pokémon gifts for die-hard fans and newbies. These cool Pokémon gifts range from figures to games to nostalgic indulgence. At the very least, this guide is sure to A-Mews you, no pun intended.
Pokémon Gift Ideas
Vintage Pokemon Gifts
Pokémon Gifts for Adults
Pokémon Gifts for Kids
Still in the mood to shop? Find more Scary Mommy holiday ideas here.