This Portable Heater Has Over 22,000 5-Star Amazon Reviews, And Your Cold Ass Needs It Right Now
by Alesandra Dubin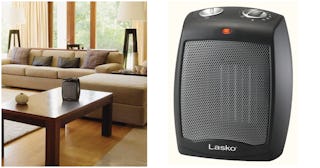 Amazon
Even though I live in Los Angeles — or probably, because I live in Los Angeles — I hate to be cold. I'm all about a cozy robe, a heating pad, and unreasonably fuzzy slippers. And in my poorly insulated garage-office, I keep a space heater under my desk and run it so hot that it sears the metal arms on my desk chair. (Ah, just the way I like it!)
Given that much of the U.S. is buried under historic snow right now, I'm guessing y'all feel me on the need for a space heater. And if you're in the market, this is the one you want: This ceramic heater with adjustable thermostat is blowing up Amazon, with nearly 34,000 total reviewers giving it close to five stars. "Love, LOVE, LOVE THIS HEATER!!!" one representative reviewer gushed. "I'm leaving this review and buying two more of these."
Turn the dial to easily choose the temp from among 11 different settings. It has built-in safety features to keep it cool to the touch, and won't overheat even if you walk away for an extended while.
And it's ideal for small spaces: Scoot it right under your desk to toast those tootsies (it's super quiet, so no one will even know it's there), or set it on the bathroom vanity to thaw out your nose when you come in from a slog outdoors. Use the top handle to move it around wherever you go (since you won't want it out of your sight).
Importantly, it comes fully assembled, so you just tear it from the box in desperation, plug it in with your cold-ass fingers, and get to warming your chattering bones.
This article was originally published on