This Serum Is Actually Helping My Maskne—And It's Affordable
by Gina Vaynshteyn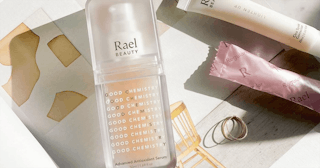 Rael/Instagram
Anyone else been breaking out like it's 2002? I don't know whether it's the stress of the election (probably) or the anxiety I feel about the rise in COVID-19 cases (most definitely), but my face has not been this broken out in a looong time. The only plus side is that I don't see anyone anyway, and have explained the situation to my coworkers here at Scary Mommy as to avoid the Zoom camera. And when I do go to the grocery store, half my face is covered by a mask, anyway.
Another silver lining is a new serum discovery that's been majorly helping. I normally don't like to switch things up when I'm in the midst of a breakout, but after hearing rave reviews about Rael's antioxidant facial serum, I decided to give it a try. I picked mine up at Target, but you can also order it online on Amazon from the Rael Store.
Formulated with hyaluronic acid (which helps exfoliate and brighten) and soothing green tea leaf extract (calms skin down), I noticed less redness and inflammation almost right away. Also, a little goes a long way. I didn't need to pump five-thousand times to evenly cover my face. And when I'm paying $30+ for a skincare product, I like to make sure that it at least lasts a long time. And it actually can sit on your shelf for longer than the average skincare product because the bottle's airless pump prevents exposure to air particles and germs. It also ensures that the active ingredients stay effective (normally, the longer you keep your skincare, the less potent it gets).
Other things I liked about this serum: It's made with clean ingredients (no synthetic fragrances, dyes, parabens, PEGS, phenoxyethanol, silicones, sulfates, or phthlates) and it's vegan and cruelty-free, too. Plus, the packaging is super cute. 10/10 would recommend this serum if you're experience skin issues like acne, uneven or dull skin, and dryness.
This article was originally published on