30 'Schitt's Creek' Gifts That Will Never Make You Say 'Ew, David'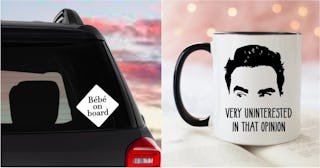 ETSY
The little comedy that could, Schitt's Creek, gifted us with the Rose family, who, after losing their fortune, were forced to move into the motel of a town they once bought as a joke. After six hilarious seasons of love, laughs, one-liners, wigs, and impeccable style, we said a fond farewell to Johnny, Moira, David, and Alexis. In between rewatching every single episode, check out these Schitt's Creek gifts that any fan will appreciate. Whether you're looking for an apron to help you fold in the cheese in the kitchen, a mug that lets people know you are very uninterested in that opinion, some Rose Apothecary-themed goodies, or something specific for that crazed Dan Levy fan you know, ahead are 31 Schitt's Creek gifts that are a lot of laughs and a little bit Alexis.
RELATED: Best Gifts For People Who Can't Get Enough Of 'The Office'
Gifts For Schitt's Creek Fans
For more great gifts and products for your house, check out our Home & Kitchen picks.