No Toy Chest Is Complete Without Some Sesame Street Gear — Because Elmo Never Goes Outta Style
by Megan Hungerford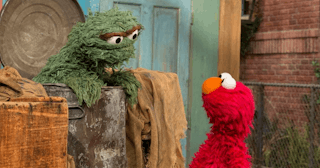 Instagram/Sesame Street
If you've ever seen a toddler totally lose their shit for Elmo, then you know the best Sesame Street toys will keep a Sesame fan entertained for hours. Regardless if you are a Sesame fan or Elmo's voice is like nails on a chalkboard, your kiddo is still a huge fan. This means you are on the hunt for a Sesame Street bath toy or plush toy they will love (but won't irritate the hell out of you). Yes, we admit it. Those adorably sweet characters often have voices so irritating they could test the patience of a monk. Good thing we've found Sesame Street plushies and interactive toys that know when to shut up. So you can enjoy some time to yourself while your little one is hanging with the crew from Sesame Street.
The classic program first aired in 1969 to facilitate preschool social-emotional and educational development. Since then, Sesame Street has become a pop culture right of passage. Our kids have sung their numbers with Elmo. They've watched Bert and Ernie exchange holiday gifts. And we've all laughed as Super Grover crashed into anything and everything. Also, Sesame Street has become a microcosm of American diversity. Embracing new characters with black, brown, blue and even green faces. Plus every single one of us have craved a home baked chocolate chip cookie after watching Cookie Monster annihilate a dozen. Sesame Street has been part of the American home life for over 50 years. No wonder everyone loves it!
Although we can't tell you how to get to Sesame Street, we can point you in the direction of their best toys. From Sesame Street plush toys, to stackable blocks, and Sesame Street bath toys – we've found sure-to-be-hits for all your Big Bird fans!
*The letter of the day (or for this post) is S — for Spotted, ScaryMommy, Snuffleupagus, and Sesame Street.*
Best Sesame Street Toys
Elmo Toys
Cookie Monster Toys
Big Bird Toys
Best Sesame Street Bath Toys
Now that Elmo lover is taken care of, what else does the fam need? We've got all the best kid gear and toys right here!