Have You Heard Of Squishmallows? Turns Out, Kids Are Obsessed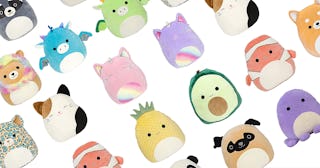 Amazon/Scary Mommy
Yes, there's another new toy that little humans are obsessed with, and they're called Squishmallows. If you know any young children, you've probably seen at least a few of the adorable stuffed creatures laying around. There are over 1,000 of them in a variety of colors, animals, snacks, and more. Squishmallows are so popular that retailers have a hard time keeping them in stock as people try to build their own "Squishmallow Squads." Whether or not you've experienced the joy (or pain) of first-hand Squishmallow hunting, here's what you need to know about everyone's new favorite toy.
What are Squishmallows?
By simply looking at the name, you'd likely guess these are squishy marshmallows, and you wouldn't be that far off (except they're not edible). Squishmallows have been around since 2017 and are cute plush toys that can double as a pillow as they're super huggable and cuddly. In fact, almost every review will tell you just how unbelievably soft and squishy (marshmallow-like!) these toys are, and they're also machine washable so you can keep even the most loved Squishmallow looking fresh and clean. Each Squishmallow has its own name and storyline and there are various themes, including food, sea life, fantasy, as well as partnerships with brands like Disney and Sanrio.
What are the Squishmallow sizes?
There's a Squishmallow size for everyone, including a 3.5-inch clip on, 5-inch, 8-inch, 12-inch, 16-inch, and if you're really looking to go big or big home, there's also a 24-inch version for maximum snuggability.
Where can you buy Squishmallows?
You can find Squishmallows all over the country, both in-store and online. Buy them directly from the website, or at retailers like Albertsons, Amazon, Claire's, Costco, Target, Walgreens, Walmart, and more.
Check out our favorite Squishmallows below!
Best Squishmallows
Best Disney Squishmallows
Best Star Wars Squishmallows
For more ways to entertain your kids (and get them out of your hair), check out our other Toy picks.