25+ Best Subscription Boxes For Kids Ages 0 To 104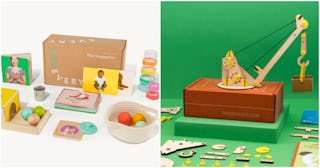 Lovevery/KiwiCo
Subscription boxes for kids are one of the greatest gifts you can give your little ones. (Well, if you ask them, the absolute greatest gift might be an endless supply of candy, but subscription boxes would probably be a close second.) Here's why: They're full of fun and cool new things; they can be educational; they give kids something to look forward to each month; they keep kids busy and out of your face for at least 20 minutes; and you can choose the boxes that best fit your child's interests.
There are literally hundreds of subscription boxes designed specifically for different age groups, but to save you the trouble of sorting through them, we put together a list of our absolute favorites that are also kid-approved. From cooking-themed boxes to arts and crafts, to STEM activities and a monthly supply of stickers, there's something for every kid. (Yes, you read that correctly, there's a sticker subscription box that'll help you vicariously live out your wildest sticker dreams you probably never fulfilled as a kid.)
Receiving a box full of goodies in the mail with your child's name on it will bring them so much joy and magic. So while you might be super jealous of all the cool shit your kid is getting, here's a fun fact: For all the awesome subscription boxes that exist for kids, there are even more subscription boxes for women (including moms-to-be). Just sayin'. Check out our list of best kids' subscription boxes below.
Best Subscription Boxes For Kids
Best Arts And Crafts Subscription Boxes For Kids
Best Book Subscription Boxes For Kids
Best Kids Clothing Subscription Boxes
Best Science & STEM Subscription Boxes For Kids