8 Size-Inclusive Summer Dresses From Universal Standard That Look *Good* On All Of Us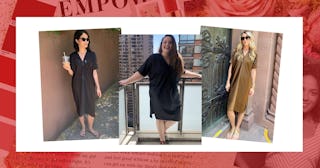 Compared to finding a strapless bra that actually stays up or a well fitting swimsuit that actually feels good (the struggle!), shopping for the perfect summer dress is supposed to be easy—right? But trying to find a dress that isn't too young (step away from the clingy, way-too-short minis of your youth) but also isn't too mom-ish (leave the high-necks to your own mom) is harder than you might think.
RELATED: The Best Maternity Summer Dresses, Because Pants In The Heat = Hell
Or at least it was harder than it should have been until we discovered the hidden gem that is Universal Standard. The fashion brand best known for its size inclusivity and super soft fabric has a whole line of summer dresses that are just begging to be lived in this summer and all summers. Whether it's a basic tank dress or a silky satin sheath, you'll want one (or all) of these hanging in your closet this season. Need maternity? Yup— that's in here, too.
To help you upgrade your summer style a la Universal Standard, we've rounded up our favorite summer dresses from their collection. Bonus: Universal Standard has recently come out with a face mask made of the same jersey fabric their dresses are famous for, so you can match your mask to your dress. Win-win.
In celebrating that the holiday weekend is finally here, the entire summer collection is 25% off from July 2-July 7. You can even shop early with this special code, EARLYACCESS, at checkout.
Need more summer style ideas? Browse our favorite fashion picks here, including the comfiest bralettes and summer sandals.
This article was originally published on