The Sundresses We're All Packing On Vacation This Shot Girl Summer
by Rachel Aschenbrand-Robinson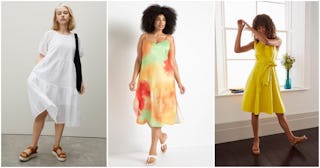 Everlane/Eloquii/Boden
As the days get longer and warmer, summer dresses are likely topping your shopping list — there's nothing like an easy, breezy sundress when it's hot out, right? Whether you're running weekend errands, strolling seaside in sandals, or heading out to celebrate a special occasion (like a family member's graduation), the quintessential summer style never fails. That said, finding the right sundress can be tricky — and that's true at any age. But finding styles as you get older that are fun, fashionable, and well, not dowdy (ugh) can be a struggle. That's why we've shopped out the best sundresses for folks over 50 (honestly you can wear them at any age — we just noticed many people were searching for this, specifically).
Traditionally, sundresses have called to mind shorter, spaghetti-strap styles in flimsy fabrics — and those still count, of course. But if what you wore at 22 doesn't necessarily work for you anymore, there are plenty of on-trend sundresses out there to keep you looking — and feeling — stylish, on-trend, and sexy this summer. It's all about what you feel most comfortable in.
So whether it's a relaxed-fit cotton beach maxi, floral fit-and-flare midi dress, short-sleeve striped number, or a bold, printed tunic, a frock that will check all the boxes for you is just a few clicks away. Scroll on to shop 18 sundresses for women over 50.
The Best Sundresses for Women Over 50*
*Editor's note: We're using the words "woman" and "over 50" because this stems from our Google research. The fact is that any person (man, woman, nonbinary) can wear dresses, and can be of any age to do so.