17 Teacher Retirement Gifts (Because They've Earned It)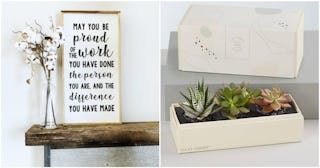 Etsy/Plants.com
When it comes to the best teacher retirement gifts, you want to get something that shows how much you appreciate all their tireless hard work and dedication over the years. After all, teachers dedicate their lives to giving others an education, so when they finally retire they deserve to kick back and relax (and maybe pour an extra tall glass of wine). So we've pulled together the best teacher retirement gift ideas to show them how proud you are and to celebrate their next chapter in life.
While retirement is a relief, it can also cause stress (and a bit of mourning): they're leaving behind a career and have all this extra time on their hands. What to do now? So we've got some great gift ideas that encourage finding a new hobby and will make them excited about their extra free time.
Also, these days when we're still living in a pandemic, we can't have big retirement parties like we used to. So sending a thoughtful gift has never been more meaningful.
Below, our picks for the best teacher retirement gifts that say "Yay! You never have to grade a paper again!"
The Best Retirement Gifts for Teachers: