The Absolute Best Gifts For People Who Can't Get Enough Of 'The Office'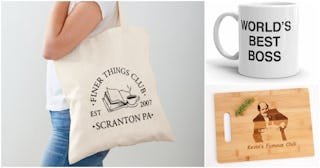 Redbubble / Amazon / Etsy
In the age of Netflix binging, and rebinging, there's one show we love to watch again and again: The Office. The sitcom about the fictional paper company Dunder Mifflin has created an enormous following with fan fiction and die-hard fanatics. So when a birthday or holiday rolls around, you know what to get them: The Office TV show gifts.
RELATED: THE BEST, Non-Basic Gift Ideas For Your Boyfriend
Gifts for The Office fans can range from a jigsaw puzzle of the whole gang to a collectible Dwight Schrute bobblehead. Basically, anything that reminds them of Michael Scott's well-intentioned but cringe-worthy antics, Jim and Pam's slow burn love story, and Dwight's general bizarreness. The Office TV show merchandise is all over the internet, so we've narrowed down the best options that any fanatic of the show will be guaranteed to love.
Here are the best The Office gifts for all the biggest fans in your life (even if that fan is you!).
For more great shopping ideas, check out all of our other Gift Guides.