The 29 Prettiest Dresses For Toddlers, Perfect For Spring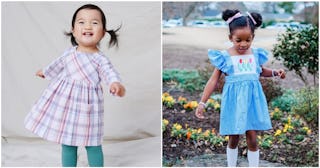 Tea Collection/Etsy
'Tis the season for toddler dresses. It's finally warming up, and you might even be going to parties again — you want your kiddo to look their best. Or maybe you want to dress them up just because. These days, toddler dresses for special occasions usually fall into two categories. The first includes tiny, modest versions of an adult trend that make your kid look like an Influencer in Training. And the second includes garments best described as a hodgepodge of rainbow glitter, sequins, and tulle that some designer probably sketched after a few White Claws. Both have their place in the toddler fashion world! If you're looking for matching toddler dress shoes or toddler flats, we've got some great picks for you, too!
Fancy dresses for kids used to be something I shopped for once or twice a year. But lately, I find myself letting my daughter wear a fancy dress whenever she asks. What's the point of holding out for a distant holiday or special occasion in our undefined future? Besides, seeing all that glitter and sequins reminds me to find moments to celebrate right now.
So here are the best toddler dresses to get a jump on the holiday. But just a reminder that if it's a random Tuesday and you want to dress your family in their Sunday best and hide candy in the yard, no one is stopping you!
The Best Toddler Dresses
Toddler Dresses for Special Occasions
Need more shopping and fashion ideas for your family? Check out more stories like this!