The Best Toddler Purses For Your Mini Fashionista (That You'll Want For Yourself)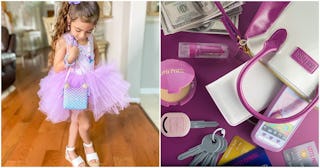 Amazon
If you haven't already noticed, the best purses for toddlers are basically just tiny versions of a purse you would wear. Little kids love mirroring the world around them, which is why they go wild for realistic play with doctor kits and even car wash toys. And purses for little kids are a way for toddlers to play grown-up and experiment with their personal style. But most importantly, purses are pretty! Kids playing dress-up will sometimes throw on two or three purses, because why not?!
Okay fine, not all purses are pretty in the traditional sense. In fact, your purse may have become less elegant and more functional, now that you have kids in the picture. If you're like me, you're sporting a cool backpack or you just throw your crap in the diaper bag (we also have plenty of travel purses for you to check out). It might be a few years before I have a pretty purse in my daily rotation again. But my functional style presence hasn't stopped my kids from going full glam on a random Tuesday stroll in the neighborhood, because for some kids, fashion is LIFE.
RELATED: 250 Hilarious Jokes For Kids That Adults Find Funny Too
But don't dismiss purses as a frivolous fashion indulgence! They're totally functional and can teach responsibility and independence at a super young age. Toddler purses may be tiny, but you can throw in some toddler chapstick or healthy snacks to fuel a day of shopping at Target. Plus, toddler purses are lightweight and great training for kids to carry their own backpacks and carry-ons, too. So here are the best toddler purses for girls that will have your kiddo feeling like a Kardashian in no time.
Best Toddler Purses
Toddler Crossbody Purses
Best Little Girl Designer Purses
Best Toddler Purses For Girls
If you're looking for more family fashion finds, we got you covered.