Travel Beds For Toddlers, Because Sharing A Mattress With Your Kid Can Be A Nightmare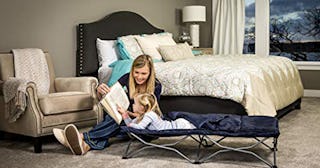 Amazon
Family Vacation Season (aka, summer) is in sight, and if you don't already have a toddler travel bed for your growing tot, I'm here to help. Like portable washing machines, portable cribs, and kids' beach chairs, travel beds for toddlers might sound like an oddly specific luxury you can do without. But once you have one, you'll wonder how you ever got along without it.
The great thing about travel is that it interrupts our daily routines (suck it, morning commute). But interrupting a toddler's bedtime routine is the surest recipe for a P.M. shitshow starring you and your overtired kid. Recreating their routine on the road can include using their favorite bubble bath in the hotel, or packing along their favorite stuffed animal to snuggle with at Grandma's house. But all that prep will be a waste of time if your kid doesn't have their own place to sleep. Sure, some motels and resorts supply cribs upon request, but asking a threenager to sleep in a crib is like asking a potty-trained toddler to poop in a diaper. The horror! How dare you even suggest it!?
Even if you're not planning to hit the road anytime soon, toddler travel beds are great to have on hand for sleep overs or family movie nights. I even know some couples who keep a toddler cot in their room for their kids who have chronic nightmares. No matter where you're sleeping, a travel toddler bed is 100x more comfortable for everyone than bed sharing, because your toddler doesn't have to sleep inches away from your snoring spouse, and you don't have to survive those late night rib kicks (how can those little legs cause so much pain?).
We found a bunch of toddler travel beds under $100, which is a pretty solid return on investment if you ask me. Since they're made for travel, they're super easy to disassemble and store when you don't need it. So before you pack the car or book that flight (we have some great plane toys to keep your kid entertained, too), make sure you have one of these great beds so you have a fighting chance at a good night sleep.
Best Toddler Travel Beds:
Best Inflatable Toddler Travel Beds:
This article was originally published on