14 Seriously Awesome Gift Ideas For Kids Who Love Trains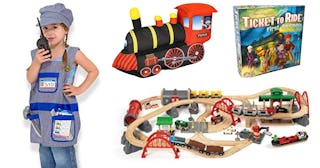 Amazon
If you have a train-loving kiddo in your life who seems to already have it all, then you might be scrambling trying to find the perfect gift that they'd actually use. Well, you've come to the right place! Train sets for kids (although still a great option) aren't the only gifts to give. Train toys or train-themed toys like a train conductor's costume, a train factbook, or a train plushy are just of few of the things the little one is sure to love.
But, sometimes you just know what works. And if you know a train set is the way to go for your kid, then you still have different ways to switch it up when giving it as a gift. There are electric toy trains, wooden train sets, even LEGO trains! Not to mention that a toddler train set is completely different than one for a kid a little older. Sure, trains come with tracks and multiple cars — and yes, you're probably going to step on them at some point, we know you love your kid enough to endure the pain of stepping on a few toy trains.
So, to help you make your LO's year with the seriously awesome train gift of their dreams, we've rounded up the best trains for kids and the best train-themed games/merch around.
The Best Train Sets
The Best Train-Themed Games & Activities
The Best Train-Themed Clothing
There isn't a gift on this list your train lover won't adore. Maybe grab a few and really make them squeal with delight on Christmas morning!
This article was originally published on