17 Ugly Christmas Sweaters That Are So Outrageous, We Must Have Them
by Gina Vaynshteyn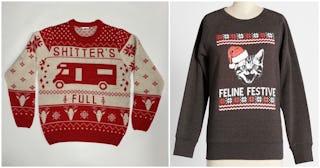 Etsy/Modcloth
Even though we'll have to transition our holiday in-person parties to Zoom parties, that doesn't mean we don't have to get festive. One of the best parts of Christmas is getting to wear an ugly Christmas sweater (ironically and not ironically). Remember when it actually used to be hard to find an ugly Christmas sweater? Like, you'd have to actually go to a Goodwill or thrift store to find one, and all the most outrageous ones would be gone by the beginning of December. Luckily, the ugly Christmas sweater trend became a bit more #mainstream, so now all of the retailers are offering plenty of choices. There are the classic ugly Christmas sweaters that feature garlands and ornaments, cute-ugly Christmas sweaters, and pop culture ugly Christmas sweaters.
We love 'em all, but here are our favorites this year.
The Best Ugly Christmas Sweater Ideas:
Best Women's Ugly Christmas Sweaters:
Editor's note: While there's no such thing as "women's things" vs. "men's things" when it comes to SWEATERS, we know some of you are looking for this. Just keep in mind, here at Scary Mommy, we are here for you wearing whatever the fuck you want. This is *your* ugly Christmas sweater journey, and yours alone.
Best Men's Ugly Christmas Sweaters:
RELATED: The Coziest Cashmere For Cool Guys Everywhere — Because Dads Deserve Nice Things, Too
There's simply no reason not to indulge yourself or someone you love with one of these festive jumpers (as Mark Darcy and Bridget Jones would say). Tis the season!