25 Earth-Friendly Gifts You Can Give Your Vegan Friends And Family
by Steph Osmanski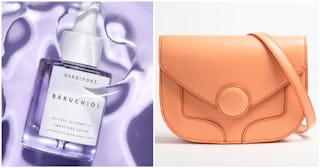 Sephora/Create & Cultivate
No animals were harmed in the making of this vegan gift guide. If you have a plant-based, animal-loving friend, you may not know where to begin, but don't worry: There are a ton of amazing gifts out there that are animal-friendly, eco-friendly, and totally vegan!
And no, we're not just talking about plant-based protein powders and meatless Impossible burgers. From plant-based apparel and accessories on Amazon to cruelty-free and vegan beauty and skincare products for her (and him!), the vegan loved one in your life won't just enjoy any one of these gifts — they will genuinely appreciate just how much thought you put into making sure their gift was given in good, harmless, cruelty-free conscience.
RELATED: What's the Difference Between CBD and Hemp Oil?
These are the 24 best vegan gifts for any plant-based, animal-loving, tree-hugging vegan friends, family, and loved ones.
Vegan Gifts for Her
Vegan Gifts on Amazon