Sweet Baby Sprinkle Ideas That Are Both Literal And Lovely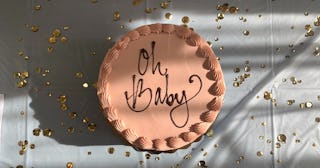 Ajeet Singh/Unsplash
Do you roll your eyes when you see an invite to a baby sprinkle? Or are you not even sure what it is? Your sister-in-law might have even hinted at the idea of you throwing one for her upcoming second or third child. You probably agreed out of love, despite not really knowing what you were getting yourself into.
The good news is that it's a lot less intense than a full-on baby shower. However, there are still some key details you're going to need to remember. A sprinkle, unlike a shower, is supposed to be a lighter celebration, but that doesn't always mean there's any less running around or headache. In all instances, we've got you covered. Whether you are the baby sprinkler or the one getting the sprinkling, it's a chance to celebrate mamas to be, which is what we love to do around here. Here's what you need to know about a baby sprinkle, how they're different from a traditional baby shower, why we love them, and how to throw one or attend one.
So, what is a baby sprinkle?
A sprinkle is, in essence, the answer to the age-old etiquette of only having one baby shower per mama. One shower per family makes sense: Friends, cousins, sisters, and co-workers can't afford to buy expecting parents a new Snoo bassinet or stroller with every subsequent baby. They can't go full-throttle on baby gear and clothes the way they did the first time around. But they love the expecting mama, and they love babies. And no matter how prepared they are, most mamas can use a little love and support during each pregnancy. Plus, what if those first two babes were girls and suddenly a baby boy is on the way? Some additional low-cost baby accessories might be in order, right? A sprinkle is a way to do that. It's a low-key way to "sprinkle" a second- or third-time mama with love and less expensive gifts.
Why do we love them? Because we love parties. We love babies. And because, as moms ourselves, we love mamas. So, if you've been wrangled into throwing a baby sprinkle, read on for party ideas. And if you've just been invited to your first sprinkle and don't know what to bring, scroll on down for gift ideas.
Baby Sprinkle Ideas
Beers & Babies/Dude & Diapers
Diaper parties for Dads-to-be were already a "thing." Often, they happen in the basement or nearby at the same time a mom has her shower. It's a "guys only" event that typically revolves around a sporting event and drinking. No silly games. No pastel colors. Just dudes hanging out. Cost of admission: A pack of diapers. Even though this is typically done during a shower, you can still try a low-key version during "sprinkle season."
Ice Cream Social
Because, Sprinkles! Instead of servings sandwiches or a deli plate, a fancy cake, and tons of finger foods, try going fun and easy with an Ice Cream Social. To be especially "fancy," you could splurge on multiple kinds of sprinkles to help sell the theme.
Rain-Theme
Do you get it yet? This time it's an ode to a different kind of sprinkle. The more literal kind that this party is actually based on. Hang some cheap umbrellas and make some rain clouds out of batting, and you're good to go!
Summer Fun/Sprinkler Themed Sprinkle
Remember the innocence and energy associated with running through the sprinklers on a hot summer day? Channel that same energy for this sprinkle theme. Just think sunny and fun with hints of spraying water.
Donut Display
You could technically do a donut display at any of these parties. Or you could do a party themed around donuts. Pretty much any party store you walk into will have a whole line of donut-themed decorations. Bonus? They're all in soft, baby-friendly colors. Just like with everything else, though, the key here is making sure your donuts have — wait for it — sprinkles.
Cupcakes & Sweetie Pops
Anyone else have a mama that called you "sweetie pops"? We're not exactly sure what a sweetie pop is, though. In the '80s, it was probably a lollipop. A more modern sweetie pop is probably a cake pop. You can decorate cupcakes and cake pops with sprinkles, thus making your baby sprinkle 1,000 percent meta.
Bun in the Oven
Don't you just love that expression? This is a great opportunity to include every kind of sticky sweet bun you can imagine on the menu. If you are a Cinnabon lover, this is your moment. Adorn the food table with cakes and treats and, in the name of the sprinkle, you can even add a nut and sprinkles bar so guests can max out their desserts.
Baby Sprinkle Gift Ideas
Since baby sprinkles usually imply that mama already has one baby, expecting parents probably don't need any big-ticket baby shower items like a stroller, crib, bassinet, changing table, or baby swings. The idea of a sprinkle is to do just that: "sprinkle" the expectant mother with smaller presents. When shopping, keep in mind that the second baby will rock a lot of hand-me-down couture, so think of things you don't keep (or hold up) from baby to baby.
The big one is diapers: Many sprinkles are diapers-only.
You can also bring gender-specific clothing. If the couple's first baby was a boy, but this time they're having a girl, now is the time to give them something they don't have, like pink or princess-themed onesies.
You can never go wrong with giving children's books. Then, when the kid is older and becomes valedictorian, they'll thank you for taking an interest in their education before they were even born.
Alcohol is a great gift, albeit obviously not for the baby. It's for the poor parents who are about to go through another round of irregular sleep and dirty diapers. A bottle of wine (or two!) is a great way to show that you care.
One word: bibs. Yes, parents have a million of them — but odds are they're all crusty, stained, and gross now. If they're on baby number two, it's definitely time to get them some new ones.
Do you want to put a smile on your mommy friend's face? Buy her some baby wipes. It sounds simple enough, but it's basically like the diamond ring of baby sprinkle gift ideas. Kids are messy and dirty 90 percent of the time, so baby wipes are just as necessary as diapers. If you want to help make the mama's life easier, buy her a sh*t load of baby wipes. It will definitely stand out as one of the more useful gifts.
It may sound weird, but cleaning supplies are an amazing gift. As a parent, half of your job involves cleaning up after your little one. So instead of a new onesie for the baby, buy the parents a box of Lysol, paper towels, detergent, and any other cleaning agents you can think of.
You can never go wrong with the gift of food. Help lighten the load of motherhood by filling up a Seamless or Uber Eats card with some funds. After you have a baby, no one wants to cook, let alone think about standing over a stove. Having a newborn means no one is getting any sleep, and if this is their second or third child, there's a bit more pressure to maintain a running household for the sake of the other kids. Above all, meals are still important, so parents will appreciate a few free dinners during the week.
Other things you can bring or send are bottles, tethers, baby shampoo, and all the other little things that they've long since used up since they last had a baby in their home. As an added bonus for you, all of those things are way cheaper than the typical baby registry items.
This article was originally published on