U.S. Health Officials Are Begging People To Stop Buying N-95 Respirator Masks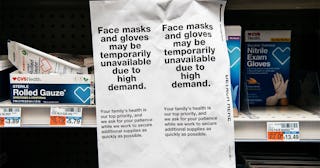 Scott Heins/Getty
What do health officials want the public to know about buying N95 respirator masks? In a word, don't
With coronavirus headlines (and, let's be real, conversations around the water cooler) growing more alarmist by the minute, it's more tempting than ever to go on a frenzied survivalist-style shopping spree. In fact, many people already are, and that includes buying out N95 respirator masks at many online retailers and medical supply stores. But the surgeon general has a strong message for the public: Stop, because you could be doing more harm than good.
Over the weekend, Surgeon General Jerome Adams tweeted his pointed request, writing, "Seriously people — STOP BUYING MASKS! They are NOT effective in preventing the general public from catching #Coronavirus, but if healthcare providers can't get them to care for sick patients, it puts them and our communities at risk!"
As Adams' upper-case typing suggests, people so far have missed the memo when it comes to recommendations set forth by the Centers for Disease Control and Prevention concerning proper precautionary measures. Instead, everyone seems to be in a mad scramble to stockpile N95 masks, a specific type of face mask designed to filter out 95 percent of airborne particles.
However, while on Fox & Friends on Monday morning, Adams pointed out that improper use of the N95 renders it ineffective — and most members of the general public will make fit mistakes that make them even more susceptible.
"It's important for folks to know right now their risk as American citizens remains low. There are things people can do to stay safe. There are things they shouldn't be doing," he said, elaborating. "One of the things they shouldn't be doing, the general public, is going out and buying masks. It actually does not help, and it has not been proven to be effective in preventing the spread of coronavirus amongst the general public."
As a health-care worker, Adams is required to have any protective masks he wears "fit tested," including the N95. One of the reasons the masks aren't considered effective at protecting the general public is for this very reason — they lack professionals to perform fit tests. Those who aren't fit-tested are prone to fidgeting and/or touching their faces, which increases the risk of spreading coronavirus.
Adams understands that "Americans get scared when they feel like they've lost control." Even so, there are actionable ways we can funnel that fear into more effective protective measures. "The most important thing everyone can do is wash your hands, keep your hands away from your face and observe very precise hygiene," Michael J. Ryan, executive director of the health emergency program at the World Health Organization, emphasized in a briefing last week.
Plus, stockpiling N95 respiratory masks also interferes with the work medical professionals need to perform to care for those who actually are sick. "There are severe strains on protective equipment around the world. Our primary concern is to ensure that our front-line health workers are protected and that they have the equipment they need to do their jobs," said Ryan.
So, what about the surgical masks that are suddenly very trendy in celebrity travel selfies? Well, they're not doing what people think they are. In reality, they're meant to protect the patient or the rest of the world from the respiratory emissions of the person wearing the surgical mask.
Hence medical professionals wearing them in the sterile field of an operating or emergency room. Because they are so loose-fitting, though, they aren't considered effective at keeping respiratory emissions of other people — like, potentially respiratory droplets from the cough of someone with coronavirus — out.
And while it's understandable that it might make us feel better to have a mask on, we're actually doing ourselves and possibly those around us a disservice by wearing one. Need to calm your nerves with an Amazon Prime spree? Stock up on Lysol and hand sanitizer instead.