I Stopped Washing My Hair So Frequently And It's Worked Wonders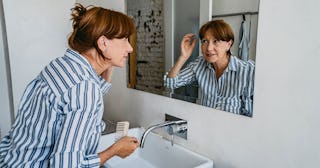 urbazon/Getty
I was in seventh grade when it happened: My hair went from being smooth and shiny to frizzy and out of control. I blame puberty and have watched all of my kids' hair do the exact same thing.
It was that year when I saw one of my friends shake out her golden locks from her scrunchie in history class and I could smell her Salon Selectives shampoo. There were hints of candy apples in the air and it made me happy. She told me she washed her hair every morning in the sink, and you bet your ass we walked to the drug store that day after school and she showed me exactly what she got.
That day was what propelled me to start washing my hair every morning. I wanted my hair to slither down my back after releasing it from the grip of an elastic and send aromatherapy to everyone around me.
Because I've been scrubbing my scalp every morning — and I mean every morning, because I love taking a shower — for thirty-three years, my head has gotten pretty used to that, and my scalp becomes an oil slick if I skip a day.
However, now that I am approaching my 46th birthday, that needs to change and I've stopped washing my hair every day. I can't believe the difference. Honestly, this started with my daughter telling me years ago I had to stop washing my hair every day because of how bad it was.
She washes her hair about once every week to ten days and her hair is so thick, long, gorgeous, and frizz free.
So, how does one break the spell of not washing their hair every day? At first, I didn't really have a plan. I thought I could just go scrubbing the scalp one a week, but just like anything else in life we give up, I needed a plan so I wouldn't cave and start up the bad habit again.
That led me to the experts. Scary Mommy spoke with hairstylist Kasey Oulette, who said, "Once you stop washing every day, your hair will adjust." Oulette suggests a dry shampoo (an all-natural one is best); apply it to your scalp when your hair is clean since it's better at preventing oily buildup than it is at cutting grease.
Since I exercise a lot in the mornings and my head gets sweaty, the desire to wash my hair is strong. However, this dry shampoo tip has saved me. I wash my hair in the morning, then that night before bed, I part my hair in sections, apply the dry shampoo, then comb through with my fingers.
When I workout, I put my hair back, and after my shower I style it and it feels nice and clean.
Oulette also recommends using a clarifying shampoo a few times a month to keep your hair and scalp balanced.
Monica Davis, professional hair stylist and founder of the MyStraightener blog, says you can fight that oily feeling by not washing your hair in hot water. "Washing your hair with hot water instead of warm often leads to more intensive scalp oil production. Use only warm water and your hair will stop getting dirty that fast," she says.
Davis also recommends putting on a shower cap in the shower so you resist the urge to get your locks wet. This will train you to keep your hands and the water away from your hair.
Also, watch where you're putting your products. "Don't apply conditioners on the scalp," says Davis. "This common mistake leads to oily scalp, so just stop doing it." Look at it like this: We should be washing the roots and conditioning the ends. After I started doing this, I realized I was saving so much product.
Another tip I've found that has helped me go from washing every day to only washing twice a week is coming up with fun, different hair styles. I've found if I wear my hair up after not washing for a day or two, it helps me keep my hands out of it. And on that third or fourth day when I really want to wash it, a headband or hat does the trick since my hair looks fantastic on the ends but oily at the scalp.
I started giving up the daily scrub by skipping one day, then two — now I'm able to go every three or four days without washing.
So, if you want healthier hair — my hair looks so much better, is growing faster, and my color lasts twice as long — try these tips. And believe me, you will save yourself so much time by doing this, not to mention your hair products will last longer. It's a win-win, for you and your hair.
This article was originally published on