Susan Sarandon And Geena Davis To Reunite For 'Thelma & Louise' 30th Anniversary
by Erica Gerald Mason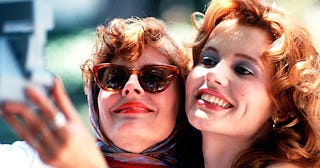 MGM
It's been 30 years since the movie version of the term 'ride or die' hit screens
Take a deep breath, kiss your bestie, lock hands, and get ready for the anniversary of the ultimate friendship film, Thelma & Louise. A special drive-in celebration is planned to commemorate the Susan Sarandon– and Geena Davis-led Ridley Scott film that premiered 30 years ago.
The now-sold-out event, set to be held June 18, is in collaboration with MGM and Cinespia's Drive-In at The Greek in Los Angeles. The one-off event will screen as a benefit for the LA Regional Food Bank and The Geena Davis Institute on Gender in Media.
"It's so weird. It doesn't feel like it was yesterday, but it certainly does not feel 30 years ago," Davis tells ET. "I think I'm still stuck in my 30s. I think I'm 35."
"We've seen it outdoors once before, a number of years ago at Cannes," Sarandon adds, "and I've gotta say, it plays really well outside."
The evening starts with a conversation between stars Sarandon and Davis. The film airs at sunset, and audiences will get a chance to see the story of Sarandon and Davis as accidental outlaws. As the pair flee on a doomed escape plan across the Southwest, they encounter a then-unknown Brad Pitt. Let's take a moment to appreciate what Pitt — ahem — brought to the table at the time.
The release of the film had an immediate impact on pop culture, culminating in six Academy Award nominations. And the now-iconic image at the end of the movie has become a cinematic touchstone. We'd say spoiler alert, but can you spoil a film from 30 years ago?
"What was so striking was the intense reaction to the film," Davis tells The Hollywood Reporter. "Thelma and Louise end up driving off a cliff, and still viewers felt exhilarated by their story. It made me realize how few opportunities we give women to come out of a movie feeling inspired and empowered by the female characters. It changed everything about how I chose roles moving forward."
For Sarandon, she had no idea what kind of a cultural impact Thelma & Louise would make on audiences — and for decades to come.
"At the time, it was revolutionary to have two women in a film that weren't enemies and were having fun together on screen," Sarandon says. "I think that's been one of the biggest breakthroughs — today there are so many brilliant female actors making films where women aren't adversarial to each other and have the power to determine their own destiny."
"The reaction to it heightened my awareness of how women are portrayed in Hollywood tremendously," Davis tells ET. "And so, when my daughter started watching little kids shows, I immediately noticed that there were profoundly more male characters than female characters in what kids see. So, I've been working to get more female characters in TV and movies made for kids. That's what we research and work on."