Here's What You Need To Know About Talc In Beauty Products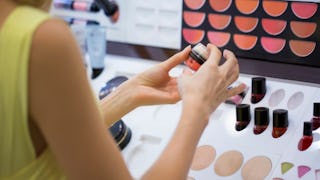 ShotShare/GettyImages
There is so much to think about and be aware of when it comes to hidden dangers in things like food and cleaning and beauty products. We do our research, Google, talk to our doctors, and buy organic or all-natural when we can for fear we are poisoning ourselves and our family. And I think it's fair to say we all realize the importance of advocating for ourselves since we know not everything we buy and eat, even if this approved by the FDA, is 100% safe and might not make us sick.
This fear is exacerbated once you become a parent. You become hyper-aware of everything that comes through your door, even if you aren't using it on your children, because there's always the chance they could get a hold of something they shouldn't. It's not just about us and our wants anymore; safety plays a bigger role in our lives than ever before. It's a huge responsibility.
And speaking of dangerous things things to look out for, if you have not heard about the dangers of talc, which is a soft mineral that comes from the ground (sounds harmless, right?), it's time to get in the know.
Talc is made up of magnesium, silicon, oxygen, and hydrogen and is used in more things than many of us realize. The reason it's so popular is because it absorbs moisture, which makes it the perfect ingredient for things like baby powder, eyeshadow, blush, and face powder. But it can also be found in things we put in our mouth like chewing gum and rice, and there is evidence that shows we should avoid it.
Recent tests found some talc may contain asbestos, which has been known to cause illnesses such as asbestosis, lung cancer, mesothelioma, pleural plaques, and many others. But the even more disturbing news is that even if proper testing has been done, and companies claim their talc-containing products are asbestos-free, talc itself can still be dangerous.
According to an article in Salon, due to "links between ovarian cancer and use of talc powder for feminine hygiene, Johnson & Johnson is facing hundreds of ovarian cancer lawsuits." And while the FDA does regulate things we put on our body everyday like makeup and body powder, its scope is limited. In fact, Salon goes on to report the FDA said in a written statement, their testing methods "have insufficient sensitivity to detect asbestos and cannot provide the highest possible level of confidence when used by suppliers of talc to certify 'absence of asbestos.'"
It's pretty scary to learn we could be swiping eyeshadow across our lids everyday, or applying blush and feeding our skin cancer-causing asbestos at the same time. Not to mention what sprinkling baby powder on our kids can do.
It does seem overwhelming to worry about one more thing that could make our family sick. But knowledge is power and the best thing you can do is educate yourself and be aware. Read labels, check ingredients, and pay attention to what you are purchasing. And whatever you do, don't put talc or baby powder in or around your vagina.
There are many talc-free options out there as far as beauty products are concerned. Let's face it, we all like to look and feel our best, and many times a little blush and powder help get us there. Giving your beauty and body products a quick once-over is a small thing you can do to ensure better health for you and your family.