Target's Swimsuit Ads Are Airbrush-Free, And We're Cheering
by Thea Glassman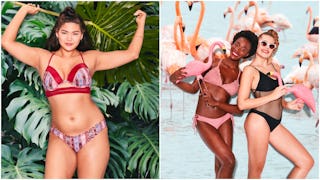 Image via Target
Target's swimsuit ads feature zero airbrushing and reshaping
Swimsuit season is coming up soon which is can be…ugh. There comes that breaking point, every year, when you're in a changing room, struggling with a two-piece, while you stand in the shadow of a bunch of tanned, perfectly taunt models glaring sexily down at you from the wall.
Well – thankfully – times they are a changin'. Target's latest swimsuit ad campaign is completely airbrush-free and the models' bodies haven't been contoured or re-shaped, either. Can we get an AMEN for that?
Related: The Most Flattering Women's Swimsuits— 2020 Best Swimsuit Guide
Target's new collection offers up 1,700 styles this year, which includes even more swimwear for all different sizes. And their ads promise not to taunt you with perfect, cellulite-free, no-thigh-gap models.
"Something you won't see? Reshaping or airbrushing," Target's press release noted. "Building on the strong foundation we set with last year's campaign, we're celebrating women and encouraging them to embrace the beauty of their own bodies."
YAHHHS.
Also, the swimsuits are very cute, most ring in under $24.99, and the bright patterns might actually make you want to disrobe this summer. I mean, hello one-piece swimsuit that actually looks pretty sexy.
Here's a breakdown of what to expect from the upcoming swimwear line:
"Modern Minimalist highlights a sleek, contemporary vibe that sticks to solid colors and unfussy prints. Boho combines feminine details, like lace and crochet, with 70s-inspired prints. Heartbreaker, our selection of lingerie-inspired swimwear, includes mesh detailing, lace, ruffles, embroidery and more. "
Related: The 9 Best Maternity Swimsuits To Flaunt Your Baby Bump
Okay, so not only are there a bunch of different options for even the most cynical swimsuit buyer — but the discount store is focused on making every woman feel completely fierce at the beach.
"We loved working with these women because they embody confidence and inspire women to embrace and be proud of who they are, regardless of their size or shape," Target's spokesperson Jessica Carlson told Refinery 29. "It was important to us to use photography that represented their true beauty, without filters."
Thanks to Target, maybe we can collectively agree to give swimsuit season another chance this year.
This article was originally published on