Taylor Swift's New Video For 'The Man' Is Your 2020 MOOD
by Madison Vanderberg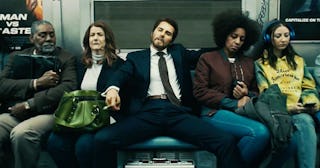 Taylor Swift/Youtube
Taylor Swift tackles double standards and toxic masculinity in new music video for "The Man"
To say that Taylor Swift has struggled with her media portrayal is an understatement. She was "boy crazy" when she dated a lot. She was a "bitch" when she dared to take control of her business. She was "shrill" when she spoke out. But Swift is over it and in her new video for The Man, Swift literally transforms into a bro, proving that all the things the public shamed her for, are the exact same things a man would be celebrated for. Swift's video for "The Man" is a take down of double standards, toxic masculinity, and a call to end the BS.
In the video for "The Man," Swift — with an assist from some prosthetics — becomes a Wolf of Wall Street-esque nightmare man who is high-fived when he has sex, who is applauded for doing the bare minimum amount of parenting, who is cheered when he yells at his work colleagues, and who is given a hall pass when he throws a tantrum on the tennis court (a not so subtle nod to the rampant sexism Serena Williams faced when he dared to question the umpire during a match).
Then at the end of the video, a title card rolls that simply says "Written by Taylor Swift, Directed by Taylor Swift, Starring Taylor Swift, and Owned By Taylor Swift" which is the ultimate power move.
Oh, and in a totally cheeky move (that we love), although Swift embodies the titular "man" in the video, Dwayne "The Rock" Johnson voices him. Swift's dad also makes a cameo as the tennis umpire and a few TikTok famous kids make appearances as well. Swift thanked her co-stars and collaborators on Instagram, writing in part, "Just sitting here pondering how happy I am that The Man music video is OUT. Thank you to the entire cast and crew for helping me become the man I always knew I could be."
Also, gender politics aside, Swift is hilarious as the world's worst finance bro. I didn't realize she was playing The Man until the credits rolled, but that is exactly her point. Why are we shocked when a woman takes up the kind of space that we only ever allow men to occupy. Go on Swift, you are The Man.
This article was originally published on