65 Touching Teacher Quotes That Show Our Eternal Gratitude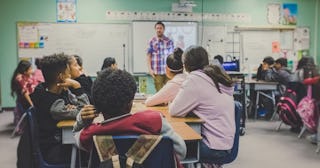 neONBRAND/Unplash
Teaching is the noblest of professions. And, while many teachers are moving on, most are still sticking around no matter the cost. They usher entire generations into the future, filling their heads with facts and ideas they might not learn without their time in school. They're paid practically nothing, yet they spend their own money to buy supplies for their classroom and their students. Nowadays, they're even doing all this while also putting their own lives and well-being at risk.
When you're putting together that holiday gift or the teacher appreciation present, remember all the hard work and long hours they put into the education of each of our children. And then consider including one of these perfect quotes into their card. (Along with some well-deserved and much-needed cash or gift cards. No one wants a candle.)
1. "All students can learn and succeed, but not in the same way and not in the same day."
– William G. Spady (Father of Outcome-based Education)
2. "Good teaching is one-fourth preparation and three-fourths theatre."
– Gail Godwin (American Novelist)
3. "When one teaches, two learn."
–Robert Heinlein (Science Fiction Writer)
4. "The duties of a teacher are neither few nor small, but they elevate the mind and give energy to the character."
– Dorothea Dix (Social Reformer)
5. "Everyone who remembers his own education remembers teachers, not methods and techniques. The teacher is the heart of the educational system."
– Sidney Hook (Social Philosopher)
6. "Teachers have three loves: love of learning, love of learners, and the love of bringing the first two loves together."
– Scott Hayden (Composer)
7. "Nine-tenths of education is encouragement."
– Anatole France (French Poet/Journalist/Novelist)
8. "It's the teacher that makes the difference, not the classroom."
– Michael Morpurgo (Children's Book Author)
9. "If you have to put someone on a pedestal, put teachers. They are society's heroes."
– Guy Kawasaki (Author, Venture Capitalist)
10. "They may forget what you said but they will not forget how you made them feel."
– Carl Buechner (American Novelist/Essayist)
11. "The art of teaching is the art of assisting discovery."
– Mark Van Doren (Pulitzer Prize-Winning Poet)
12. "I am a teacher born and bred, and I believe in the advocacy of teachers. It's a calling. We want our students to feel impassioned and empowered."
– Erin Gruwell (Teacher, Writer, Freedom Writers Foundation Founder)
13. "The mediocre teacher tells. The good teacher explains. The superior teacher demonstrates. The great teacher inspires."
― William Arthur Ward (Inspirational Maxims Writer)
14. "The best teachers are the ones that change their minds."
–Terry Heick (Founder/Director of TeachThought)
15. "The whole purpose of education is to turn mirrors into windows."
– Sydney J. Harris (Journalist)
16. "To teach is to learn twice over."
– Joseph Joubert (French Moralist/Essayist)
17. "A teacher affects eternity; he can never tell where his influence stops."
– Henry B. Adams (Historian)
18. "To this end, the greatest asset of a school is the personality of the teacher."
– John Strachan (Educator)
19. "Teaching is not a lost art, but the regard for it is a lost tradition."
– Jacques Barzun (Historian)
20. "What sculpture is to a block of marble, education is to a human soul."
– Joseph Addison (Essayist/Poet)
21. "The job of an educator is to teach students to see vitality in themselves."
– Joseph Campbell (Professor of Literature)
22. "The greatest sign of success for a teacher is to be able to say, 'The children are now working as if I did not exist.'" – Maria Montessori (Physician, Educator, Creator of Montessori Method)
23. "All teachings are mere references. The true experience is living your own life."
– Ming-Dao Deng (Author, Philosopher, Teacher)
24. "Education breeds confidence. Confidence breeds hope. Hope breeds peace."
– Confucius (Philosopher, Politician)
25. "I cannot teach anybody anything, I can only make them think."
– Socrates (Philosopher)
26. "Those who know, do. Those that understand, teach."
– Aristotle (Philosopher)
27. "Study without reflection is a waste of time; reflection without study is dangerous."
– Chinese Proverb
28. "Your worst enemy is your best teacher."
– Buddha (Philosopher, Spiritual Leader)
29. "Listening is the most difficult skill to learn and the most important to have."
– African Proverb
30. "Teaching is the highest form of understanding."
– Aristotle (Philosopher)
31. "Better than a thousand days of diligent study is one day with a great teacher."
– Japanese Proverb
32. "I touch the future. I teach."
– Christa McAuliffe (Teacher, Astronaut)
33. "Teachers can change lives with just the right mix of chalk and challenges."
– Joyce Meyer (Evangelist)
34. "Teaching is only demonstrating that it is possible. Learning is making it possible for yourself."
– Paulo Coelho (Author)
35. "I would teach how science works as much as I would teach what science knows."
– Neil deGrasse Tyson (Scientist)
36. "In education, technology can be a life-changer, a game-changer, for kids who are both in school and out of school."
– Queen Rania of Jordan
37. "Education is our passport to the future, for tomorrow belongs to the people who prepare for it today."
– Malcolm X (Human Rights Activist, Leader, Minister)
38. "The task of the modern educator is not to cut down jungles, but to irrigate deserts."
– C. S. Lewis (Author)
39. "Tell me and I forget. Teach me and I remember. Involve me and I learn."
– Benjamin Franklin (Founding Father)
40. "I am not a teacher, but an awakener."
– Robert Frost (Poet)
41. "Technology is just a tool. In terms of getting the kids to work together and motivating them, the teacher is the most important."
– Bill Gates (Software Developer, Philanthropist)
42. "Education is not the filling of a pail, but the lighting of a fire."
– William Butler Yeats (Poet)
43. "I like a teacher who gives you something to take home to think about besides homework."
– Lily Tomlin (Comedian)
44. "I never teach my pupils; I only attempt to provide the conditions in which they can learn."
– Albert Einstein (Genius)
45. "Far and away the best prize that life offers is the chance to work hard at work worth doing."
— Theodore Roosevelt (President)
46. "It is the supreme art of the teacher to awaken joy in creative expression and knowledge."
– Albert Einstein (Genius)
47. "The meaning of life is to find your gift. The purpose of life is to give it away."
– Pablo Picasso (Painter)
48. "Teaching might even be the greatest of the arts since the medium is the human mind and spirit."
– John Steinbeck (Novelist)
49. "A good teacher is like a candle — it consumes itself to light the way for others." – Mustafa Kemal Atatürk
50. "In a completely rational society, the best of us would be teachers and the rest of us would have to settle for something else." – Lee Iacocca
51. "Teaching is the one profession that creates all other professions." – Unknown
52. "You can teach a person all you know, but only experience will convince him that what you say is true." – Richelle E. Goodrich
53. "Intelligence plus character– that is the goal of true education." — Martin Luther King Jr.
54. "A teacher is a compass that activates the magnets of curiosity, knowledge, and wisdom in the pupils." – Ever Garrison
55. "Education is not the filling of a pail but the lighting of a fire." — William Butler Yeats
56. "Children are likely to live up to what you believe of them." – Lady Bird Johnson
57. "The object of education is to prepare the young to educate themselves throughout their lives." – Robert M. Hutchins
58. "The beautiful thing about learning is that no one can take it away from you." – B.B. King
59. "Anyone who does anything to help a child in his life is a hero to me." – Fred Rogers
60. "Teaching is an instinctual art, mindful of potential, craving of realizations, a pausing, seamless process." – A. Bartlett Giamatti
61. "Good teaching must be slow enough so that it is not confusing, and fast enough so that it is not boring." – Sidney J. Harris
62. "In an effective classroom, students should not only know what they are doing, they should also know why and how." – Harry Wong
63. "The important thing is not so much that every child should be taught as that every child should be given the wish to learn." – John Lubbock
64. "The need for imagination, as a sense of truth, and as a feeling of responsibility — these are the three forces which are the very nerve of education." – Rudolf Steiner
65. "Teaching should be such that what is offered is perceived as a valuable gift and not as a hard duty." – Albert Einstein
This article was originally published on