Thanks Tina, Now We Can't Stop Craving Sheet Cake! (So, Here's 5 Of Our Faves)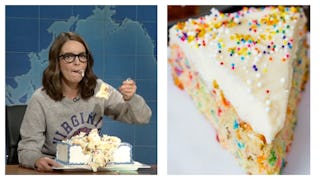 CBS / Sally's Baking Addiction via Pinterest
I just received the best invitation I've gotten in a long time. A friend sent me a picture of herself eating cake and wrote, "I legit have a homemade funfetti sheet cake in front of me. Grab a fork and come over." So of course I did, and you would have too.
Because unless you've been living under a rock, you've heard sheet caking is now a thing. And you've probably been having mad cravings thanks to Tina Fey and her delicious rant on Thursday night's episode of Weekend Update: Summer Edition.
Fey's epic speech stuck it to Trump, neo-Nazis, and the giant sheet cake sitting in front of her saying, "Sheet caking is a grassroots movement. Most women I know have been doing it once a week since the election."
Fey advises that digging into a giant sheet cake sans plate with a fork is a great alternative to "participating in the screaming matches and political violence."
While there were (understandably) mixed reactions to Fey's solution, you have to admit something: You know you want to sit and dig your fork into the middle of a big ol' 9×11 pan filled with soft, moist cake topped with creamy frosting.
And probably sprinkles. Because sprinkles are bright and cheery, and make us remember joyful things.
She makes it look so damn fun, and I am excited this has become a trend so we can all partake and feel no shame. Fey says, "…find a local business you support. Maybe a Jewish-run bakery or an African-American-run…bakery. Order a cake with the American flag on…and just eat it."
Or you can join in the "grassroots movement" by making one and stuffing your cake hole in the privacy of your own home.
A Texas sheet cake via The Pioneer Woman will do your body good.
Or you could go for this peanut butter sheet cake from Tasty Kitchen. If you're feeling fancy, throw it right on top of the chocolate cake and eat them both at the same time. Layered cake! Not that I would do that, but you may want to.
This homemade funfetti cake from Sally's Baking Addiction is a classic that everyone loves, because sprinkles. And delicious vanilla frosting.
And who would say no to a caffeine-infused cake? If you've never had a Coca-Cola cake, now is the time, and Averie Cooks is here to save the day.
But if none of the above are healthy enough for you to indulge in, consider a pumpkin sheet cake from Six Sisters' Stuff. It has pumpkin in it, so it's super healthy and stuff.
And if this all just feels like too much effort, but you still want a damn sheet cake, take your sweet ass to the store and buy the box of Funfetti cake mix we all grew up on, a tub of frosting, then bake that shit up and eat it right out of the pan. Delicious.