Emilio Estevez Is Back In First Trailer For 'The Mighty Ducks' Series Reboot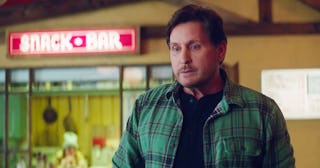 Disney Plus/Youtube
'The Mighty Ducks' series reboot, 'Game Changers,' stars Lauren Graham and Emilio Estevez
Quack…quack…quack…get your hockey sticks ready, because the Ducks are back! That's right, the early '90s movie franchise is getting the reboot treatment in a new series for Disney+ premiering in March. And yes, of course, the Gordon Bombay will return as the all-star youth hockey team's coach.
Quick refresher: in original The Mighty Ducks, Gordon Bombay plays a lawyer down on his luck after being sentenced to community service for a DUI (damn, Disney, amiright?). His penance is coaching youth hockey, where he's suddenly in charge of a bunch of "misfit" young players who are in desperate need of good coaching. Bombay was a pretty prominent hockey star as a kid, playing for the Hawks — the team that's still just as good many years later, and the team Bombay and his team, the Ducks, have to play against in the playoffs. There's a side plot involving Charlie, a boy on the Ducks (played by Joshua Jackson in his pre-Dawson's Creek days), who Bombay takes under his wing as a protégé and ends up romancing his mom and becoming a father figure to the boy.
10/10 great movie, and the following sequels in the franchise were also a delight. When Disney+ announced it's kickass lineup of 2021-2022 programming, millennials everywhere were tickled to learn that The Mighty Ducks was coming back in a reboot called Game Changers.
In the series, set in present-day Minnesota, the Mighty Ducks are the badass youth hockey team (BYE HAWKS). They're so competitive, that the same kind of youth athletes who originated the team way back when are no longer deemed good enough to play for the team.
Lauren Graham plays the mother of 12-year-old Evan who loves to play hockey. After he's cut from the Ducks, she decides to gather a bunch of other kids who didn't make the team to create their own team (plot parallels, anyone?).
While it's not clear how big Estevez's role in the series will be, it's pretty much impossible to have him not be a main character, right? Especially since he's in the trailer. No word yet on if Joshua Jackson will make a cameo appearance as Charlie since his mom married someone other than Gordon Bombay in the movie's sequels (RUDE). Though fans of Graham from Gilmore Girls and Parenthood know that she's basically a leading lady angel, so it'll be fun to see where that goes.
Game Changers premieres on Disney+ March 26 with 10 episodes. It'll be awesome to see a new generation fall in love with the franchise, and hey, it gives us older millennial parents a reason to make our kids watch the '90s movies. Win-win.
This article was originally published on