This Is The Only Gift Guide You Need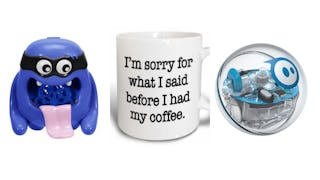 jet.com Walmart.com
We are down to the wire, folks. And, if you're like us, you're probably still scrambling to get at least a few items on your holiday shopping list. Well, look no further, because we've done the heavy lifting for you and gathered all of our kick ass holiday gift guides in one place.
Whether or not your MIL is on the Naughty List this year, chances are you are sweating over that perfect gift. Well, you can relax because we've got you covered with this gift guide for MILs.
Look no further, because this list includes the hottest new (and affordable) gizmos that every modern mom needs.
We all know that person who hates peopling. With this gift guide, you can give her a gift that shows you really get her.
Good neighbors can be hard to come by, and this gift guide makes it a breeze to say, "Thanks for not sucking!"
If you have a new or expecting mom on your holiday shopping list, start here for a list of unique gifts that won't break the bank.
And don't forget the new dad on your holiday list.
Art does wonders for a child's imagination and self-esteem, and this gift guide makes it super easy to satisfy the art lover in your family this holiday season.
If you're scrambling for last minute gifts for your tiny tot, we've got you covered with this toddler gift guide.
For those of you with a spirited child in your life, this gift guide will help you figure out what to get those special little folks so you have more time and energy to chase after your little tornado, er, child.
When your kid loves sports, you know that sports = life. This gift guide will help you up your game (see what we did there?) to keep your sports kid happy during the holidays.
Here's a list of electronic toys and gadgets you can feel good about giving to your screen-obsessed kid, and they will also be thrilled to see them under the tree.
And if you're looking for non-toy gift ideas, check out this handy dandy list to keep you and your children happy this holiday season.
We have no clue how teachers do the magic that they do, but this gift guide will help you shower them with gifts they really want.
Make sure everyone on your list has a nice, plump stocking to delve into with our Stocking Stuffer Guide.
We put together a list of white elephant gag gifts so delightfully awful, you'll be begging your friends to have a white elephant party just so you can buy these things.
We've rounded up the perfect gifts to help you and your partner get tangled up in the tinsel this holiday season.
Well, there you have it. A few clicks and — voila! — your holiday shopping is complete. Now pour yourself your favorite beverage, sit back, and relish in your gift buying awesomeness.
This article was originally published on