The Rock Surprises 101-Year-Old Fan For Her Birthday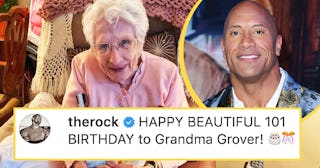 The Rock/Instagram and Jon Kopaloff/Getty Images
The Rock was introduced to Marie last year on her 100th birthday
Dwayne "The Rock" Johnson is a gift from above and we should rejoice in his existence every single day. If you need one more reason to love the doting father-of-three and action hero, he just sent his biggest fan free tequila for her birthday. Now is probably a good time to mention she is 101 years old.
Johnson posted a photo of Marie, AKA Grandma Grover, smiling from ear to ear with bottles of his Teremana tequila in both hands, along with a handwritten card for the gorgeous birthday girl. He shared the picture on Instagram, saying in part, "HAPPY BEAUTIFUL 101 BIRTHDAY to Grandma Grover!"
https://www.instagram.com/p/CGdkKc-FRPa/
He also joked that she should take care in imbibing on his famous spirits. "Remember to SIP the Mana, grandma and it's not time to do shots," he wrote, adding, "Happiest of birthdays – what an amazing and blessed life. Enjoy your mana, Marie!"
According to PEOPLE, Marie is a longtime fan of Johnson's and the two were introduced via a woman named Jamie Klingler who tweeted at the Jumanji star last year asking if he'd wish her friend's grandma a happy 100th birthday. Jamie explained that, "She will lose her mind. When we were in high school (25 years ago) she would wear a rock sweat shirt and tell us how handsome he is."
The Rock took the time to respond quickly to Klingler's tweet, even sending Marie an adorable video wishing her a happy birthday. Klinger shared her reaction and it's probably a good time to grab some tissues before you watch it. "THE ROCK?" she said, laughing. Her happy squeals will sustain us for the rest of this garbage fire year.
"What?? First I'm hearing of this! Who's turning 100?" Johnson said in a message back to Grover. "Beautiful age! What do you need, Jamie?" he asked, as Klingler said that she'd love it if the star "would record a little video."
Because Johnson is the most amazing human being on Earth, he ended up sending a video to Grover, singing her Happy Birthday, and wishing her "a huge congratulations on 100 years."
"What an amazing life," he continued in the video. "Now you can eat cake, you can get drunk, and you can have the best time. Party hard! I'm sending you so much love, muah! Happy birthday!" He also went on to share that while he wished his own grandmother were still here, "stuff like this is always the best part of fame."
This year, he's almost guaranteeing Grover will party hard with some smooth tequila to wash down her cake with. Seriously, we do not deserve him — or her.
Happiest of birthdays, Marie. You have a lot of jealous women envious of your amazing birthday nod.