The Rock's Daughter Blames Her Pasta Mess On The 'Paghetti Fairy'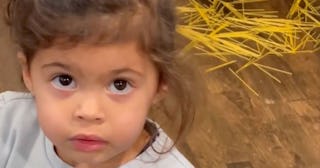 The Rock/Instagram
The Rock's little girl has the perfect explanation for why there's "paghetti" all over the kitchen floor
There are few celeb dads out there who seem to genuinely delight in fatherhood like Dwayne "The Rock" Johnson. His affection for his trio of daughters is easy to see every time he posts about them, and lately, little Tiana is the star of many of his social media updates. The tot is internet famous in her own right for her hilarious refusal to believe her dad is actually Maui from Moana and now, she's in denial of a different (and totally adorable) sort.
Johnson shared a ridiculously cute video of Tiana caught in the act of having recently spilled uncooked spaghetti noodles all over the floor. Instead of fessing up to her deed and helping clean the mess, she's working on a little campaign to clear her name. "If I ever find this 'Paghetti fairy' 🍝🧚🏽‍♀️ who made all this mess I'm slappin' it's wings off 👋🏾" Johnson jokes in the caption.
The video shows doe-eyed angel Tiana lying her sweet baby face off as Johnson gently tries to get the truth out of her. "Baby Tia putting the heat on the 'Paghetti fairy' as she slowly lets all the spaghetti fall on the floor saying 'she did it again?' is some of the funniest shit I've experienced in a long time," he writes.
He asks her what happened and over and over she insists she doesn't know. But once Johnson plants the idea of that naughty "spaghetti fairy" she rolls with it. When asked what the culprit looks like Tia simply replies, "a fairy" and like, did she stutter? This baby is maintaining her innocence and if need be, I will show up as her lawyer and defend her myself.
There's no doubt that Johnson's two youngest daughters (Jasmine is newly five and Tiana is two) keep him pretty busy. The day after Christmas, he shared a little anecdote undoubtedly familiar to most parents of tiny kids. "Post Christmas, 'Daddy come play Barbie with me' which in reality means..
Daddy holds this Barbie for a solid 45min straight while baby Tia does whatever she wants and completely ignores Barbie the whole time." Sounds about right.
In closing the post, The Rock seemed proud of Tiana's genius in avoiding trouble under pressure. "That's my kid — 💯 unflappable in the moment of crisis."